3 cards free career tarot reading spread is the best free tarot reading spread if you have work related questions, would like to have a tarot card prediction for your career or occupation. You might as well be on a job hunt and seeking some guidance while searching for a job or considering your career choices.
Career questions for tarot
Before shuffling just focus on your career related questions and shuffle it as much as you would like. You can use this career reading daily or whenever you are looking for answers to your career related questions.
Click on the card twice to read the description
Card #1: Your current state in your career
Card #2: Your strengths
Card #3: Your professional Future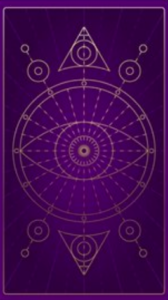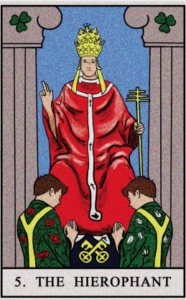 The Hierophant tarot card is based on a society that functions according to conventional norms. The core idea behind this card is that it represents things being done legitimately, which people will follow and accept.
The Hierophant card meaning in love:
When you set out in search of true love, you can rest assured that your efforts will not go wasted. This is because you will most likely engage in a healthy relationship that will be based on a long-term commitment.
The Hierophant card meaning in career:
If you want to be successful in your career, you should avoid shortcuts at all costs. You'll be much better off provided you take the challenging path to success.
The Hierophant card meaning in money:
Searching for unconventional ways of generating money will only drain you out. Try and figure out how other people are making money and what steps they're taking to generate their income.
The Hierophant card meaning in health:
You will start experiencing good health once you try out the conventional means of healing. Also, try to incorporate daily exercise into your routine to enhance your immune system.
The Hierophant card reversed meaning in love:
At times a relationship can end up not conforming to the conventional norms. It's a relationship based on inequality between the partners due to distinct genders. As a result, this can lead to a broken partnership.
The Hierophant card reversed meaning in career:
In the workplace, there can sometimes be an imbalance of power in the hierarchical chain of command. The directors or managers may use their power to make employers obey and follow their principles.
The Hierophant card reversed meaning in money:
People may give you advice in terms of earning a better living. For the most part, seeking advice is not a bad thing. However, it's best to stick to what you're most comfortable with, no matter how tempting other money-making ventures may seem.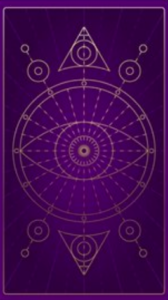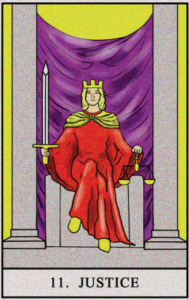 As the name suggests, the Justice Tarot card represents fair law and truthness. You can see that by looking at the figure of justice sitting in a chair holding a sword in the right and a scale on her left hand which purely shows justice.
Upright Justice Card Meaning:
The upright Justice card represents law, truthfulness, integrity, karma, cause, and equal consequence. That means whatever choices one makes have a similar and long-term impact on their lives and the lives of their surrounding people.
Upright Justice Card meaning in Love :
If you're someone who's putting continuous effort, you will receive the love and romance ultimately as the upright justice card represents karma. It doesn't matter you're single or in a relationship, the karma law is true for both. So, make sure you treat the person well whom you're in love with.
Upright Justice Card Meaning in Career:
If you're going through a tough time or getting affected by bad workplace politics or any type of dispute you don't need to lose hope as the justice card shows that the thing will be just fine very soon. All you need is to stay honest and fair with your work.
Upright Justice Card Meaning in Money:
The cause and effect apply here. If you're facing any financial trouble, you need to start putting more effort into your work or business, and soon that struggle will be ended. If things are going just fine, take this card as a reminder that you need to keep working with uttermost honesty.
Justice Card Reversed Meaning
The reversed Justice card represents injustice, dishonesty, and lack of accountability. This card will give signals towards taking the responsibility of actions to improve your life.
Justice Card Reversed meaning in Love:
Love is not a fair deal. It's not just about giving and taking. Sometimes you can love someone more and receive less in return or vice versa. So, if you're someone going through this situation should hold on to the relationship. Take full responsibility, and things will get better for both of you.
Justice Card Reversed Meaning in Career:
At times we face unfair situations in the workplace. This includes your boss treating you unjustly or putting his blame on you. This card shows that even if it feels like you can't take anymore and want to burst out of words, but you need to relax and handle this situation calmly without making it worse.
Justice Card Reversed Meaning in Money:
Reversed Justice card symbolizes that there might be dishonesty in your finances. It can be due to sharing your financial information with the wrong person or mishandling your finance.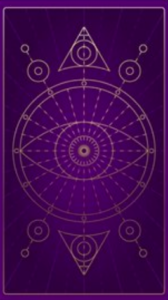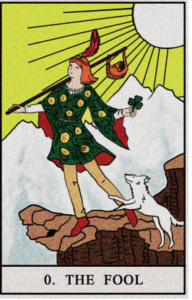 The Fool Card meaning in Love
If you are single and looking for a girlfriend this card indicates that you never have a hard time to find someone to get in a romantic relationship. Your future girlfriend is going to be a fun person to hang out with although she might not be ready yet for a long term relationship.
If you are already taken, the card can be an indication of something exciting between you and your partner and accomplishment of something together. This can be marriage, engagement , experiencing something new, travelling to new destinations and etc.. If you want to find out more about how your potential partner feels about you, the fool card indicates that your partner enjoys spending time with you however she / he is not ready to settle down with anyone yet.
Upright fool card is a clear indication of an unexpected new adventure that may require you to be courageous to take some risks. If you do, you will be well rewarded. This card can also mean travelling to new destinations and experiencing new cultures.
The Fool Card Meaning in Career
The fool card indicates your dedication and love for your job or business . Try to focus on core important elements of your work rather than focusing creative and fun stuff. The Fool is a great card to receive when you're just beginning a new job or business venture, the only drawback being that you can be so enthusiastic about your work that you stop acting like a professional. Success is around the corner if you let go of your fears and devote yourself to your career .
The fool card meaning in Money
Sign of opportunities and advancement in your career. It's a clear indication that you will be rewarded very soon. It can also be the sign of a new business project or a promotion
The fool card meaning in health
If you are healthy , you can expect to stay that way. If you are sick , you will get better soon!
The fool card reversed meaning
It's an indication of ignorant negligent behavior. You should stop disregarding the effects of your actions on other people around you.
The fool card reversed meaning in Love :
If you are in a relationship, one of you is not very serious. One of you loves being free and independent and this will sour your relationship. The card suggests that you don't have a future together as a couple.
The fool reversed meaning in career:
Definitely not a good time to invest in something or to start new projects. The reversed fool card is actually a warning for you. Things may seem too good to be true and you should be very careful when taking decisions.
Daily Career Tarot Spread
You need 3 card tarot spread in order to do an accurate daily career tarot readings. Your current professional state , achievements and failures will reflect to your free reading. Career tarot reading is an old and well known technique to get a clear picture of your future . These free readings will make accurate predictions on your work life including career choices, the steps you need to take while on a job search as well as giving you some useful tips you would need when dealing with your co workers , your boss or employees.
Career tarot readings is all about your energy so you might come across useful information about your professional like that that you would never expect to hear from anyone. If you are looking for a job, un employed, considering changing your career this daily career tarot reading spread should be your go to!
An angel tarot will read with the angel tarot cards. These cards are in the standard size deck of all Tarot cards, but they are shown as pictures of angels. It is thought that because they are sent as divine messengers to us, they can pass through the various aspects of time and space. You […]

---