Before shuffling just focus on your question
Click on the card twice to read the description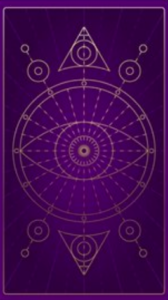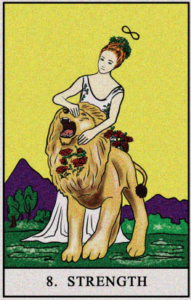 Strength Tarot card consists of a mature woman holding the jaws of a strong and fully-grown lion. That represents domination, control, bravery, and courage. The lion itself symbolizes courage and survival. So, the card generally connects survival with control and bravery.
Strength Card Upright Meaning
A strength card in the upright position generally represents the person's ability to overcome distressful situations and the presence of inner strength in him or her.
Strength Card Upright Meaning in Love
A strength card in an upright manner signifies a strong relationship that consists of intense feelings. This type of relationship has its pros and cons, like obsession and jealousy at the same time. So, you need to use your inner strength to tackle the cons of this relationship or your partner, which will further bring both of you to each other.
Strength Card Upright Meaning in Money and Career
If you're someone whose emotions always lead him or gets in his way of career and business, this card indicates that it needs to be stopped. It's time you master the skill of self-control and lead your life. You've enough skills and courage to do that. If you've always wished to run your own business but failed due to emotions and fears of failure, it's time you take the courage and proceed. Your investment will pay your back, and there will be an inflow of money.
Strength Card Upright Meaning in Health
Are you facing any health issues? This card is a signal that your health is getting better and you're getting your strength back. So, start training your mind and bring positive changes to your life.
Strength Card Reversed Meaning:
The strength card in the upright position represents self-doubt, vulnerabilities, and a feeling of not being enough or ready. If this card shows up, that means you're going to experience or already experiencing fear or anger. You've forgotten all the good of yourself and life around you, which is weakening you.
Strength Card Reversed meaning in Love:
You need to reduce the dependency on your partner or relationship and incline yourself towards your own interest. It's important to make your relationship strong. This card may also reflect the domination of one partner on the other.
Strength Card Reversed Meaning in Career and Money:
Are you feeling the continuous fear or stress to move forward in your career or take critical business decisions? This card indicates that your being discourages, and you need to let go of the fear of failure, which will make your career or business successful. You need to invest your money smartly.
Strength Card Reversed Meaning in Health:
This indicates the lack of self-control in managing your desires that are harmful to your health. That may include alcohol consumption, drugs, or bad food choices. Don't let it control you.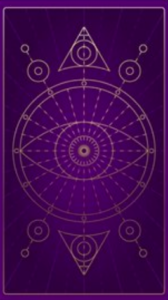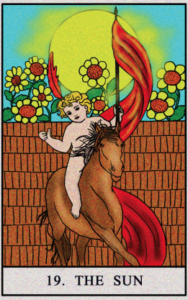 The Sun Tarot card generally represents positivity, optimism and feelings of fulfilment. When the card is in the upright position, it signals that joy and happiness are coming to you. It also represents success and confidence. So, continue whatever you're doing, and you'll be getting the joy of success soon.
The Upright Sun Card meaning in Love :
An upright sun card represents the successful relationship and signals towards making your relationship better by putting more efforts to get close to each other. If you're single, this card shows that it's the perfect time to start a relationship.
The Upright Sun Card Meaning in Career:
If you're switching to a new job or investing in any new business, it signifies that you stay optimistic as you'll be getting success and happiness.
The Upright Sun Card Meaning in Money:
If you're financially stables and things have been working out of your latest, then you'll be soon revealing some hidden factor for that you should keep some money at the side.
The Upright Sun Card Meaning in Health:
If you're perfectly healthy, the sun card represents you should be grateful and stay away from the unhealthy activities. In case one is going through health problems, that problems would leave you soon.
The Sun Card Reversed Meaning
The Sun card reversed represents a lack of enthusiasm, sadness, depression, pessimism, and unrealistic expectations. But this card doesn't necessarily mean that you're in a bad situation, but it indicates your feelings and your focus on negativity. In short, you're losing the sight and being unrealistic, which you must tackle.
The Sun Card Reversed meaning in Love
The sun shines bright even after getting blocked by the clouds temporarily. So, if you're in a relationship with someone, you might be facing some issues with your partner or not feeling the love and happiness, but the reversed sun signals that thing will be sorted out soon, and you'll be happy once again. If you're single, this card represents a relationship is in your way, and you should accept it.
The Sun Card Reversed Meaning in Career
Being human, we are sometimes played by our thoughts, which results in missing and ignoring the things in front of us. A reversed sun card suggests that you may feel exhausted at your workplace due to certain circumstances like a promotion you deserve. Besides getting depressed over it or walking out of the situation, you should bring this matter to your boss and request your promotion.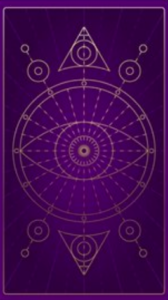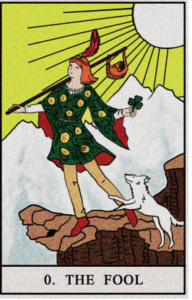 The Fool Card meaning in Love
If you are single and looking for a girlfriend this card indicates that you never have a hard time to find someone to get in a romantic relationship. Your future girlfriend is going to be a fun person to hang out with although she might not be ready yet for a long term relationship.
If you are already taken, the card can be an indication of something exciting between you and your partner and accomplishment of something together. This can be marriage, engagement , experiencing something new, travelling to new destinations and etc.. If you want to find out more about how your potential partner feels about you, the fool card indicates that your partner enjoys spending time with you however she / he is not ready to settle down with anyone yet.
Upright fool card is a clear indication of an unexpected new adventure that may require you to be courageous to take some risks. If you do, you will be well rewarded. This card can also mean travelling to new destinations and experiencing new cultures.
The Fool Card Meaning in Career
The fool card indicates your dedication and love for your job or business . Try to focus on core important elements of your work rather than focusing creative and fun stuff. The Fool is a great card to receive when you're just beginning a new job or business venture, the only drawback being that you can be so enthusiastic about your work that you stop acting like a professional. Success is around the corner if you let go of your fears and devote yourself to your career .
The fool card meaning in Money
Sign of opportunities and advancement in your career. It's a clear indication that you will be rewarded very soon. It can also be the sign of a new business project or a promotion
The fool card meaning in health
If you are healthy , you can expect to stay that way. If you are sick , you will get better soon!
The fool card reversed meaning
It's an indication of ignorant negligent behavior. You should stop disregarding the effects of your actions on other people around you.
The fool card reversed meaning in Love :
If you are in a relationship, one of you is not very serious. One of you loves being free and independent and this will sour your relationship. The card suggests that you don't have a future together as a couple.
The fool reversed meaning in career:
Definitely not a good time to invest in something or to start new projects. The reversed fool card is actually a warning for you. Things may seem too good to be true and you should be very careful when taking decisions.