Six Tarot cards spread is best for getting the deeper insight through medium-scale tarot card reading. This reading is not so in-debt compared to the long reading and not short as one card spread reading. The six card Tarot reading is called the middle of the road. A sixth number is an even number that has a deep connection to the soul and possesses energy.
How To Use This Free Tarot Reader
Click on the card of your choice to reveal it
Scroll down to read their description
Click on "Shuffle" to start a new reading
Click on "Flip" to overturn all the cards on one click
Click on the card twice to read the description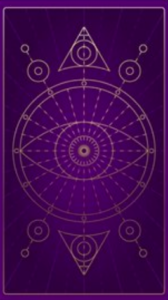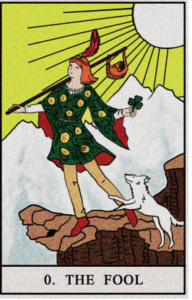 The Fool Card meaning in Love
If you are single and looking for a girlfriend this card indicates that you never have a hard time to find someone to get in a romantic relationship. Your future girlfriend is going to be a fun person to hang out with although she might not be ready yet for a long term relationship.
If you are already taken, the card can be an indication of something exciting between you and your partner and accomplishment of something together. This can be marriage, engagement , experiencing something new, travelling to new destinations and etc.. If you want to find out more about how your potential partner feels about you, the fool card indicates that your partner enjoys spending time with you however she / he is not ready to settle down with anyone yet.
Upright fool card is a clear indication of an unexpected new adventure that may require you to be courageous to take some risks. If you do, you will be well rewarded. This card can also mean travelling to new destinations and experiencing new cultures.
The Fool Card Meaning in Career
The fool card indicates your dedication and love for your job or business . Try to focus on core important elements of your work rather than focusing creative and fun stuff. The Fool is a great card to receive when you're just beginning a new job or business venture, the only drawback being that you can be so enthusiastic about your work that you stop acting like a professional. Success is around the corner if you let go of your fears and devote yourself to your career .
The fool card meaning in Money
Sign of opportunities and advancement in your career. It's a clear indication that you will be rewarded very soon. It can also be the sign of a new business project or a promotion
The fool card meaning in health
If you are healthy , you can expect to stay that way. If you are sick , you will get better soon!
The fool card reversed meaning
It's an indication of ignorant negligent behavior. You should stop disregarding the effects of your actions on other people around you.
The fool card reversed meaning in Love :
If you are in a relationship, one of you is not very serious. One of you loves being free and independent and this will sour your relationship. The card suggests that you don't have a future together as a couple.
The fool reversed meaning in career:
Definitely not a good time to invest in something or to start new projects. The reversed fool card is actually a warning for you. Things may seem too good to be true and you should be very careful when taking decisions.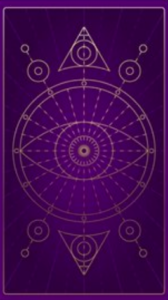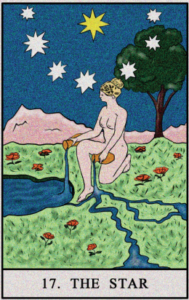 The star tarot card reflects a sense of optimism. This means that one can always expect things to work out even if situations seem dire. If you possess this Arcana card, you will feel more motivated and inspired to take on a challenge, no matter how difficult it may be.
The Star Card meaning in Love:
If you've previously been in a relationship that made you feel bad or upset, you shouldn't be bothered about it anymore. The star card suggests that someone better is awaiting you.
Whoever this person is, you'll be ready to meet them with a positive and happy mindset.
The Star Card meaning in Career:
Searching for the perfect career path is something that you should not stress over. Many opportunities will be coming your way, and some of them will come in the most unexpected of ways. So be patient and optimistic as greatness is destined for you.
.
The Star Card meaning in Money:
If you're in a tight spot financially, you should be spending your money in a well-thought-out manner. To be more specific, you should be investing rather than simply spending. Therefore, look for profitable opportunities you could invest your money in. For all you know, you might just hit the jackpot.
The Star card meaning in Health:
If you constantly feel sick or ill, don't worry. All your ailments will soon fade away. The star card indicates that good health will come your way, and you'll be feeling better in no time.
The reverse aspect of love suggests that you no longer feel the same energy in your relationship as before. In other words, you're no longer confident about the relationship, which makes you want to give up on it.
The Star Card reversed meaning in Career:
Carrying out your everyday routine might have gotten boring for you. You might find the monotonous tasks of your job to be discouraging or unrewarding.
The Star Card reversed meaning in Money:
If you haven't been able to grow financially, there might be a possibility that you're doing something wrong. You should review your money-making strategies and see how you could improve them. Things might not work out at first, but remember every cloud has a silver lining.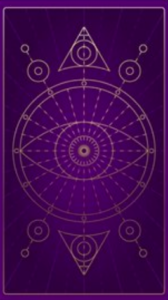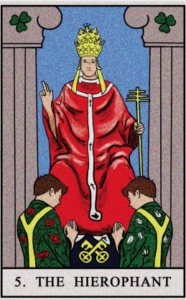 The Hierophant tarot card is based on a society that functions according to conventional norms. The core idea behind this card is that it represents things being done legitimately, which people will follow and accept.
The Hierophant card meaning in love:
When you set out in search of true love, you can rest assured that your efforts will not go wasted. This is because you will most likely engage in a healthy relationship that will be based on a long-term commitment.
The Hierophant card meaning in career:
If you want to be successful in your career, you should avoid shortcuts at all costs. You'll be much better off provided you take the challenging path to success.
The Hierophant card meaning in money:
Searching for unconventional ways of generating money will only drain you out. Try and figure out how other people are making money and what steps they're taking to generate their income.
The Hierophant card meaning in health:
You will start experiencing good health once you try out the conventional means of healing. Also, try to incorporate daily exercise into your routine to enhance your immune system.
The Hierophant card reversed meaning in love:
At times a relationship can end up not conforming to the conventional norms. It's a relationship based on inequality between the partners due to distinct genders. As a result, this can lead to a broken partnership.
The Hierophant card reversed meaning in career:
In the workplace, there can sometimes be an imbalance of power in the hierarchical chain of command. The directors or managers may use their power to make employers obey and follow their principles.
The Hierophant card reversed meaning in money:
People may give you advice in terms of earning a better living. For the most part, seeking advice is not a bad thing. However, it's best to stick to what you're most comfortable with, no matter how tempting other money-making ventures may seem.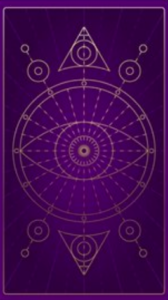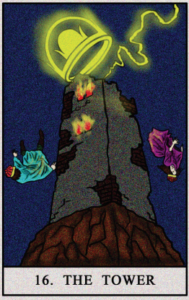 The Tower Tarot card or the most terrifying card in the deck generally indicates chaos and survival. The flaming tower image with the devil shows the destruction which needs to be done in order to move forward.
The Tower card in upright position indicates abuse, violence, natural disaster, loss, tragedies. In short, all the things you should be afraid of. If this card shows that means big changes are on their way to your life. So, you can use these indicators to prepare yourself for dealing with them.
The Tower Card Upright Meaning in Love :
Your relationship might take some wrong turns in the coming days. The Tower in an upright manner indicates a separation, breakup, or even a divorce. So, if your relationship is going through a rough time you need to prepare yourself to survive the upcoming destruction. But it can also mean the destruction might eliminate the reason that is damaging your relationship and you both will come close after a hard time.
The Tower Card Upright Meaning in Career:
You need to prepare yourself for a laying over or big changes in your career. That means that you'll have to handle stress at a workplace or business which might frustrate you.
The Tower Card Upright Meaning in Money :
It's an indication to prepare your finances and savings for your sudden losses so you can rely on them and pass that time.
The Tower Card Reversed Meaning:
Tower card in reversed position shows resistance or avoidance of things. So, this card tells that you need to stop resistance and face the hardships to start the new beginning.
The Tower Card Reversed meaning in Love:
If you're in a relationship and experiencing distantness, pain, and not doing anything about it. This card indicates that towards making adjustments to your relationship and let your partner know how you feel or leave the weak relationship.
The Tower Card Reversed Meaning in Career:
You may be feeling secured about your current job and career but you need to stay prepared for the worst. This card indicates that your career might take some unexpected turns which can put you in a vulnerable position. So, if you're thinking you're past the layoffs, that's not true.
The Tower Card Reversed Meaning in Money:
The Tower Tarot Card reversed signifies the acceptance and declaration of financial defeat. Most of the time we try so hard for survival but in reality, we don't make any progress and get the delayed defeat. So, this card suggests that you need to accept it to find peace. For example; you're just invested in a property you can't afford so you should sell it.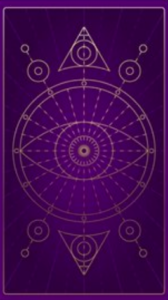 If the moon appears as one of the last cards in your reading, it indicates that your soul's journey is coming to an end. rd, You should isolate yourself from distractions and turn into your inner world for a long journey of discovery. You may have many unanswered questions in mind about love, career or health, and the answers you are looking for are inside you. To find answers, You just need to focus on your inner world and isolate yourself from outside distractions. The moon card may also be telling you not to let your fears interrupt your love & life goals.
Love:
The moon card is a strong indication of new decisions, new paths, or a desire for change. If your partner is not willing to change you could decide separating. If you are not in a relationship but have strong interest in somebody, watch out. Your interest may have a secret agenda.
The reversed moon card can be an indication of the imbalance in your life. It may also be a suggestion for you to seek assistance from a professional or a loved one around you.
Career:
You may be experiencing some difficulties with your coworkers at your workplace, try to communicate with them. Clarifying things may be difficult sometimes but it is essential to find the balance in your career. If you are currently unemployed, do not feel lost. Always try to explore new opportunities. You will eventually find something that fits you.
Health:
This may be an indication of an unhealthy mental state . Speaking to a health professional or a loved one can turn things around.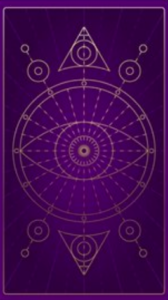 The Empress Tarot card consists of a throned mature woman surrounded by true nature. Her outlook represents the goddess and luxury. There is greenery everywhere in her surrounding. This Empress card overall represents nature and femininity.
Empress Card Upright Meaning
The Upright Empress card denotes creativity, abundance, and sensuality. It connects us with the nature and happiness of life. Also, helps the people to understand themselves better and bring happiness in their life.
Empress Card Upright Meaning in Love
In an upright manner, the Empathy card has a very positive indication for both people, singles, and couples. If you're in a relationship, it signifies that your partner is truly committed. Also, it indicates romance, sex, and pregnancy. So, if you're not ready, better start keeping the safety. For singles, it's a signal that they will be getting their right one pretty soon.
Empress Card Upright Meaning in Career
Having a nurturing environment at your workplace would help you in boosting the momentum. This card represents creativity and inspiration. If you're joining a new place, you'll get the company of very good co-workers.
Empress Card Upright Meaning in Money
If having a bad time dealing with Finances, this card signifies the upcoming good flow of money. So, if you're thinking about investing, go for it.
Empress card reversed has a negative indication. It points out insecurity, lack of growth, and negligence. One must embrace himself of their feminine qualities, be it, men or women, because we all have them inside us. Embracing them will help us to grow, and this card is the indicator of that.
Empress Card Reversed meaning in Love:
If you love your partner and not giving her enough attention due to any reason. This card indicates that he or she needs it to boost self-worth. You can try making little gestures like taking your partner on a dinner date or movie or try some romantic gift. For single, it's an indication of many potential people who will try to ask you out soon.
Empress Card Reversed Meaning in Career:
If you're in a career or business which is not of your interest. This card indicates you take the bold decision and stop following it. Instead, follow your true interest, which will make you successful without draining the energy out of you.
Empress Card Reversed Meaning in Money:
Sometimes we find ourselves feeling unstable even after having enough finances. The reason might be something not right inside you. This card suggests that you should not ignore this feeling and deal with your inner self, and start being confident about yourself. Make all the reasonable investment choices, don't help back!
First Card: Your Inner Feelings About Yourself: The first card signifies your feelings, both positive and negative, about yourself. These feelings depend on your surroundings. This means whatever is happening around you might changing your feelings. This card will indicate the changes in your feelings in the future.
Second Card: Your Current Desires: The second card represents your deep desires, all the things you want to achieve in the present. This card will indicate how you can move forward or take the right decision to make your desire come true.
Third Card: Your True Worries: The third card represents all of your worries, and this card has a significant impact on the overall interpretation of the tarot cards. You can expect a negative message from this card about your future. Still, it also indicates holding on and being fearless, and stopping worrying in the present to overcome your future.

Fourth Card: A Delayed Positiveness : The fourth card represents all the positive things that are yet to happen. This card generally indicates things that go with the indications of the second and third cards.
Fifth Card: Your Undiscovered Problems The fifth card represents your key obstacles and hidden problems that could come your way soon but you're not aware of them yet. So, this card indicates your undiscovered problems. By getting the insights you can prepare yourself for it accordingly and save yourself from worrying.

Sixth Card: The Final Verdict: The sixth card is the last card of 6 tarot card spread which conveys the overall message. This card is more of an indication that all the insights you get from the other five cards are true, and it gets more clear after the reassurance from this last card. Although, the confirmation can be good or bad.
Do you need more than a computer generated free reading? Talk to a real psychic!
Sometimes free online readings are just not enough and what you really need is to talk to a real live person whether on the phone or via video chat. You can speak to a live tarot reader here or visit one of the websites below.