Six card tarot spread is best for getting the deeper insight through medium-scale tarot card reading. This free reading is not so in-debt compared to the long reading and not short as one card spread reading. The six card Tarot reading is called the middle of the road. A sixth number is an even number that has a deep connection to the soul and possesses energy.
How To Use This Free Tarot Reader
Click on the card of your choice to reveal it
Scroll down to read their description
Click on "Shuffle" to start a new reading
Click on "Flip" to overturn all the 6 cards on one click
Click on the card twice to read the description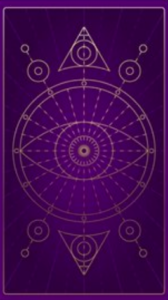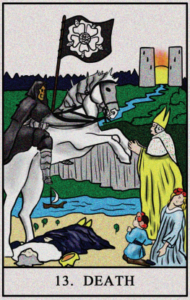 What does the Death Tarot Card Mean?
In the upright Death Tarot card, we can see a skeleton wearing body armor riding a beautiful white horse. The skeleton symbolizes survival, armor shows the power that death is unbeatable and the Beautiful White house denotes the purity of life. The overall representation of the death tarot card is not negative at all. It is often misunderstood, and that's the reason people usually fear this card. However, it indicates the transformation of life.
The Death Card meaning in Love
The Upright Death Card expresses the ongoing relationship complications. It indicates that things among the partners are not going well. If one wants to continue or improve their relationship, he/she needs to put some effort into changing and lifting things up. Sometimes, this card also indicates the end of the relationship. It's the transformation from one love life to another one.
The Death Card Meaning in Career
If you're not satisfied with your career and things are not in the right direction, upright Death Cards indicate the career change. That means you need to put an end to the frustration and should stop following that career. The current career might be offering you stability and safe financial outcomes, but it's eating you from the inside, and you must change it. When you close this door, the next door will be opened for you, which will offer you more comfort.
The Death Card Meaning in Money
Suppose you're struggling with the money or bearing a loss in your business or any other financial resources. In that case, that is the signal of the transformation of your relationship with the money. This card indicates a learning lesson from this situation, which will help you in tackling your money problems.
The Death Card Meaning in Health
Taking about the heath, you must be panicking that this card may indicate physical death. It does but in rare cases. Instead, most of the time, this card is pointing towards unhealthy activities that could improve your health if left. These activities include alcohol consumption, bad food choices, etc.
The reversed death card meaning is also transformation but the only difference in the reverse card is that it indicates those changes that one has been avoiding and showing resistance about.
The Death Card Reversed meaning in Love:
Suppose your relationship has come to a stop where you're no longer helping each other. In that case, the reversed death card indicates that you can revive this relationship by putting in dynamic efforts.
The Death Card Reversed Meaning in Career:
You're not doing well in a job or business but still pushing hard to survive or hold on to that job. This resistance has been stopped, and you need to accept the change for a better career.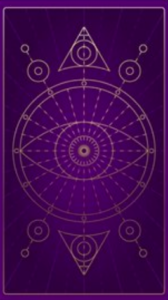 The upright version has an illustration of a creature having both man and goat-like features. Two individuals who appear to be humans are attached to the stool with chains on which the Devil is standing. The card indicates negativity, materialism, void, lust, and entrapment.
The Devil Card meaning in Love:
In a love reading Devil represents lust and desire. It indicates that someone is not ready for commitment, just wanting something temporary. It indicates addiction and dependency.
The Devil Card meaning in Career:
In terms of career, it indicates the feeling of stillness and enforcement. A person might feel that he is forced to work at the current job or pursue a certain career regardless of his own choice.
The Devil Card meaning in Money:
It shows that a person is having difficulty handling the finances, or they simply have poor management skills when it comes to money. They are spending way too much, and this keeps them stressed.
The Devil Card meaning in Health:
In terms of health, it means that a person is overindulging in some factors that can influence their overall health. It also indicates mental health problems.
The reversed version represents the moment of self-awareness where a person overcomes bad habits and addictive behaviour. It indicates that an individual can regain lost dignity.
The Devil Card reversed meaning in Love:
This represents the tendency to come out of a hurtful situation to know what you want from life in terms of love.
The Devil Card reversed meaning in Career:
In a career reading, the card emphasizes that you don't depend on your job to seek stability in your life anymore. It also means that a person is fully capable of flourishing in terms of career.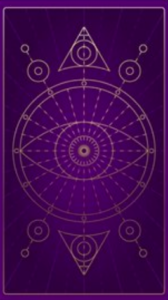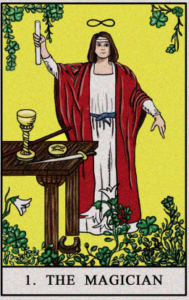 Upright position of this card represents creative, skillful individuals. It also indicates personal strength.
The magician tarot card meaning in Love :
If you are in love or have strong interest in someone , you have to show it. Try to break the monotony of your life and express yourself in a creative way.
The magician tarot card meaning in CAREER:
New job opportunities will be coming your way. You will take new projects with high self esteem and positive energy. If you are already employed, this card indicates that you will either get promoted or be assigned new tasks because of your problem solving skills. Your god given talent and skills will help you start a new business / expand your existing business .
The magician tarot card meaning in MONEY:
It looks like you have no problem making money however you have bad spending habits. You are a hard worker, not afraid of doing side gigs . You just need to learn how to manage your finances. This card is not a sign of financial danger. It is a sign for you to change your spending habits.
The magician tarot card meaning in Health
If you are sick or experiencing health issues, you can expect getting better soon.
Beware of new people around you. People you are doing business with maybe cheating on you / lying to you.
Love:
If you have a partner, this card indicates that you will start experiencing some issues in your relationship. A recent discussion, thoughtless act by one of you might have caused an uncertainty in your relationship . Your partner thinks that you are egoist and full of yourself. Uncertainty will ruin your relationship. Try to think about how your partner feels , rather than being concerned only about yourself.
This card may also be a sign of a person who frequently changes partners without thinking of what is going to happen tomorrow..
The magician reversed card in
Career:
Bad news on A new business project . Obstacles on a business project. Poor performance at work. You are having trouble self questioning and recognizing your mistakes and failures.
The magician reversed card in Health:
If you draw this card along with the fool or judgement card it will represent physical or mental fatigue. Don't be too hard on yourself, just take it easy. Things like Yoga would relieve your stress.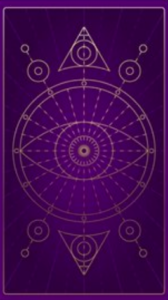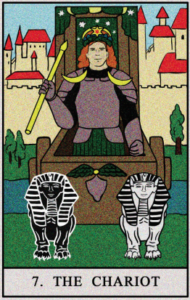 The Chariot Tarot card contains the two sphinxes that are driving a person sitting in a vehicle. One is black, and another one is white. This card generally represents the influence, ambition, willpower, control, focus, and hard work.
The Chariot Card Upright Meaning
The Chariot card in the upright position signifies success and willpower. It suggests that besides the regular obstacles of life, you need to stay focused in order to be successful. With that, it also signals for traveling. If you're a sportsperson, it is a signal for winning your next match.
The Chariot Card Upright Meaning in Love
If your relationship is going through a rough phase, this card suggests you and your partner should come together and conquer the emotions to make your relationship work. If you're a single person, the card indicates that you need to move ahead in life, leaving the past bad experiences behind.
The Chariot Card Upright Meaning in Career
Stay ambitioned even though you feel stuck in your career or business. This card indicates that you should clear your mind and stay focused at work which would ultimately help you to reach your destination. It also suggests staying away from any kind of workplace politics and fights.
The Chariot Card Upright Meaning in Money
If you're facing money obstacles, but don't worry more as they are about to leave. All you need is to stay focused and deal with them calmly. Don't lose your self-discipline in the process. And if you're not having a money problem. This card signifies making better investment choices now for a safe future.
The Chariot Card Reversed Meaning
The Chariot card in reverse position signifies the lack of direction, powerlessness, aggression, and obstacles. If you're losing focus or feeling stuck, this card will help signals making the right decisions.
The Chariot Card Reversed meaning in Love.
Just lost a relationship or failing to make your relationship work? The Chariot card in reverse position indicates that you should stop feeling overwhelmed as you cannot control everything in life. Stay patient and let things settle themselves if you're single or desperately finding someone for a relationship, this card signals to stay patient and let love find you.
The Chariot Card Reversed Meaning in Career
Are you trying to beat the odds and working much aggressively? This card suggests to stop that and take one step at a time, or you'll face failure in your career or business.
The Chariot Card Reversed Meaning in Money
Thinking of investing some money to get quick gains, you need to slow down a bit. As this card suggests, these fast investments could cause financial losses. So, consider doing research and make the wise investments.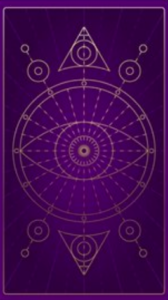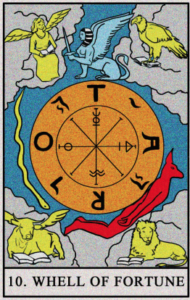 The Wheel of Fortune Tarot card generally represents destiny. It is one of the highest symbolic cards in the whole deck. It signals the person in the right direction, which helps in taking better decisions.
The Wheel of Fortune Card Upright Meaning
The Wheel of Fortune Upward points towards good luck, karma and decisive moments. If you're struggling to decide under uncomfortable circumstances, this card will point out the right thing for you.
The Wheel of Fortune Card Upright Meaning in Love
If you're in a relationship, this is the time to take your relationship to the next stage. Or if you're having a difficult time in a relationship, the Wheel of Justice in upright position signals towards making critical decisions that could be bringing needed changes to make the relationship work or breaking up for the better of both. However, if you're single, this points out that the universe is trying to push you towards a lovely relationship.
The Wheel of Fortune Card Upright Meaning in Career
The Wheel of Fortune in an upright position points towards an upcoming significant change in the job or your business. So, if you're trying to start a new business or thinking of switching to a new job, now is the perfect time to do that.
The Wheel of Fortune Card Upright Meaning in Money
You need to start keeping some amount separately if you're not doing it already. Because this card in upright position signals the change in the financial status, you might get an opportunity to invest your money as well, and for that, you need some ready-to-invest money.
The Wheel of Fortune Card Reversed Meaning
The Wheel of Fortune card in reverse position indicates lack of control, bad luck, delays and unwelcome changes. So, it would be best if you start preparing for the upcoming changes in your way.
The Wheel of Fortune Card Reversed meaning in Love.
Your relationship might get in trouble or in a vulnerable situation where you think things cannot work further. But you need to handle it calmly as this is just a slight slump, and everything will get better soon.
The Wheel of Fortune Card Reversed Meaning in Career
Your career or business could go through uncertainty for some time. This Wheel of Fortune card in reverse position signals the uninvited turns. You need to handle this situation properly and get yourself prepared to take a critical decision once the situation gets stable again.
The Wheel of Fortune Card Reversed Meaning in Money
This card suggests that there are unexpected events in your way for which you need to prepare now. For example: Start saving money for the emergency, which could come in any shape. By doing that, you will be able to protect yourself from stress or anxiety.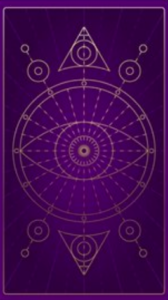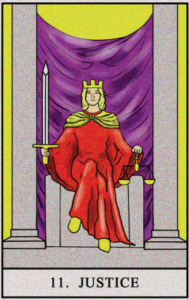 As the name suggests, the Justice Tarot card represents fair law and truthness. You can see that by looking at the figure of justice sitting in a chair holding a sword in the right and a scale on her left hand which purely shows justice.
Upright Justice Card Meaning:
The upright Justice card represents law, truthfulness, integrity, karma, cause, and equal consequence. That means whatever choices one makes have a similar and long-term impact on their lives and the lives of their surrounding people.
Upright Justice Card meaning in Love :
If you're someone who's putting continuous effort, you will receive the love and romance ultimately as the upright justice card represents karma. It doesn't matter you're single or in a relationship, the karma law is true for both. So, make sure you treat the person well whom you're in love with.
Upright Justice Card Meaning in Career:
If you're going through a tough time or getting affected by bad workplace politics or any type of dispute you don't need to lose hope as the justice card shows that the thing will be just fine very soon. All you need is to stay honest and fair with your work.
Upright Justice Card Meaning in Money:
The cause and effect apply here. If you're facing any financial trouble, you need to start putting more effort into your work or business, and soon that struggle will be ended. If things are going just fine, take this card as a reminder that you need to keep working with uttermost honesty.
Justice Card Reversed Meaning
The reversed Justice card represents injustice, dishonesty, and lack of accountability. This card will give signals towards taking the responsibility of actions to improve your life.
Justice Card Reversed meaning in Love:
Love is not a fair deal. It's not just about giving and taking. Sometimes you can love someone more and receive less in return or vice versa. So, if you're someone going through this situation should hold on to the relationship. Take full responsibility, and things will get better for both of you.
Justice Card Reversed Meaning in Career:
At times we face unfair situations in the workplace. This includes your boss treating you unjustly or putting his blame on you. This card shows that even if it feels like you can't take anymore and want to burst out of words, but you need to relax and handle this situation calmly without making it worse.
Justice Card Reversed Meaning in Money:
Reversed Justice card symbolizes that there might be dishonesty in your finances. It can be due to sharing your financial information with the wrong person or mishandling your finance.
First Card: Your Inner Feelings About Yourself: The first card signifies your feelings, both positive and negative, about yourself. These feelings depend on your surroundings. This means whatever is happening around you might changing your feelings. This card will indicate the changes in your feelings in the future.
Second Card: Your Current Desires: The second card represents your deep desires, all the things you want to achieve in the present. This card will indicate how you can move forward or take the right decision to make your desire come true.
Third Card: Your True Worries: The third card represents all of your worries, and this card has a significant impact on the overall interpretation of the tarot cards. You can expect a negative message from this card about your future. Still, it also indicates holding on and being fearless, and stopping worrying in the present to overcome your future.

Fourth Card: A Delayed Positiveness : The fourth card represents all the positive things that are yet to happen. This card generally indicates things that go with the indications of the second and third cards.
Fifth Card: Your Undiscovered Problems The fifth card represents your key obstacles and hidden problems that could come your way soon but you're not aware of them yet. So, this card indicates your undiscovered problems. By getting the insights you can prepare yourself for it accordingly and save yourself from worrying.

Sixth Card: The Final Verdict: The sixth card is the last card of 6 tarot card spread which conveys the overall message. This card is more of an indication that all the insights you get from the other five cards are true, and it gets more clear after the reassurance from this last card. Although, the confirmation can be good or bad.
Do you need more than a computer generated free reading? Talk to a real psychic!
Sometimes free online readings are just not enough and what you really need is to talk to a real live person whether on the phone or via video chat. You can speak to a live tarot reader here or visit one of the websites below.