Before shuffling just focus on your question
Click on the card twice to read the description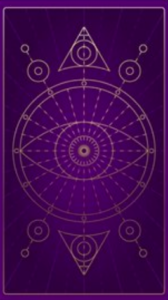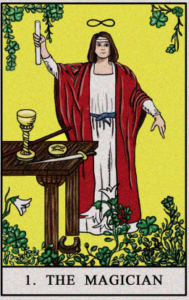 Upright position of this card represents creative, skillful individuals. It also indicates personal strength.
The magician tarot card meaning in Love :
If you are in love or have strong interest in someone , you have to show it. Try to break the monotony of your life and express yourself in a creative way.
The magician tarot card meaning in CAREER:
New job opportunities will be coming your way. You will take new projects with high self esteem and positive energy. If you are already employed, this card indicates that you will either get promoted or be assigned new tasks because of your problem solving skills. Your god given talent and skills will help you start a new business / expand your existing business .
The magician tarot card meaning in MONEY:
It looks like you have no problem making money however you have bad spending habits. You are a hard worker, not afraid of doing side gigs . You just need to learn how to manage your finances. This card is not a sign of financial danger. It is a sign for you to change your spending habits.
The magician tarot card meaning in Health
If you are sick or experiencing health issues, you can expect getting better soon.
Beware of new people around you. People you are doing business with maybe cheating on you / lying to you.
Love:
If you have a partner, this card indicates that you will start experiencing some issues in your relationship. A recent discussion, thoughtless act by one of you might have caused an uncertainty in your relationship . Your partner thinks that you are egoist and full of yourself. Uncertainty will ruin your relationship. Try to think about how your partner feels , rather than being concerned only about yourself.
This card may also be a sign of a person who frequently changes partners without thinking of what is going to happen tomorrow..
The magician reversed card in
Career:
Bad news on A new business project . Obstacles on a business project. Poor performance at work. You are having trouble self questioning and recognizing your mistakes and failures.
The magician reversed card in Health:
If you draw this card along with the fool or judgement card it will represent physical or mental fatigue. Don't be too hard on yourself, just take it easy. Things like Yoga would relieve your stress.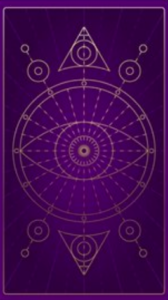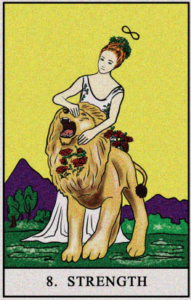 Strength Tarot card consists of a mature woman holding the jaws of a strong and fully-grown lion. That represents domination, control, bravery, and courage. The lion itself symbolizes courage and survival. So, the card generally connects survival with control and bravery.
Strength Card Upright Meaning
A strength card in the upright position generally represents the person's ability to overcome distressful situations and the presence of inner strength in him or her.
Strength Card Upright Meaning in Love
A strength card in an upright manner signifies a strong relationship that consists of intense feelings. This type of relationship has its pros and cons, like obsession and jealousy at the same time. So, you need to use your inner strength to tackle the cons of this relationship or your partner, which will further bring both of you to each other.
Strength Card Upright Meaning in Money and Career
If you're someone whose emotions always lead him or gets in his way of career and business, this card indicates that it needs to be stopped. It's time you master the skill of self-control and lead your life. You've enough skills and courage to do that. If you've always wished to run your own business but failed due to emotions and fears of failure, it's time you take the courage and proceed. Your investment will pay your back, and there will be an inflow of money.
Strength Card Upright Meaning in Health
Are you facing any health issues? This card is a signal that your health is getting better and you're getting your strength back. So, start training your mind and bring positive changes to your life.
Strength Card Reversed Meaning:
The strength card in the upright position represents self-doubt, vulnerabilities, and a feeling of not being enough or ready. If this card shows up, that means you're going to experience or already experiencing fear or anger. You've forgotten all the good of yourself and life around you, which is weakening you.
Strength Card Reversed meaning in Love:
You need to reduce the dependency on your partner or relationship and incline yourself towards your own interest. It's important to make your relationship strong. This card may also reflect the domination of one partner on the other.
Strength Card Reversed Meaning in Career and Money:
Are you feeling the continuous fear or stress to move forward in your career or take critical business decisions? This card indicates that your being discourages, and you need to let go of the fear of failure, which will make your career or business successful. You need to invest your money smartly.
Strength Card Reversed Meaning in Health:
This indicates the lack of self-control in managing your desires that are harmful to your health. That may include alcohol consumption, drugs, or bad food choices. Don't let it control you.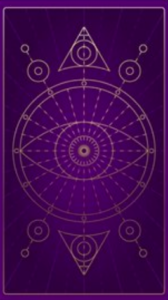 The Empress Tarot card consists of a throned mature woman surrounded by true nature. Her outlook represents the goddess and luxury. There is greenery everywhere in her surrounding. This Empress card overall represents nature and femininity.
Empress Card Upright Meaning
The Upright Empress card denotes creativity, abundance, and sensuality. It connects us with the nature and happiness of life. Also, helps the people to understand themselves better and bring happiness in their life.
Empress Card Upright Meaning in Love
In an upright manner, the Empathy card has a very positive indication for both people, singles, and couples. If you're in a relationship, it signifies that your partner is truly committed. Also, it indicates romance, sex, and pregnancy. So, if you're not ready, better start keeping the safety. For singles, it's a signal that they will be getting their right one pretty soon.
Empress Card Upright Meaning in Career
Having a nurturing environment at your workplace would help you in boosting the momentum. This card represents creativity and inspiration. If you're joining a new place, you'll get the company of very good co-workers.
Empress Card Upright Meaning in Money
If having a bad time dealing with Finances, this card signifies the upcoming good flow of money. So, if you're thinking about investing, go for it.
Empress card reversed has a negative indication. It points out insecurity, lack of growth, and negligence. One must embrace himself of their feminine qualities, be it, men or women, because we all have them inside us. Embracing them will help us to grow, and this card is the indicator of that.
Empress Card Reversed meaning in Love:
If you love your partner and not giving her enough attention due to any reason. This card indicates that he or she needs it to boost self-worth. You can try making little gestures like taking your partner on a dinner date or movie or try some romantic gift. For single, it's an indication of many potential people who will try to ask you out soon.
Empress Card Reversed Meaning in Career:
If you're in a career or business which is not of your interest. This card indicates you take the bold decision and stop following it. Instead, follow your true interest, which will make you successful without draining the energy out of you.
Empress Card Reversed Meaning in Money:
Sometimes we find ourselves feeling unstable even after having enough finances. The reason might be something not right inside you. This card suggests that you should not ignore this feeling and deal with your inner self, and start being confident about yourself. Make all the reasonable investment choices, don't help back!