Before shuffling just focus on your question
Click on the card twice to read the description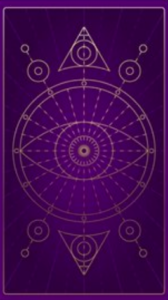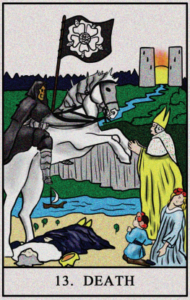 What does the Death Tarot Card Mean?
In the upright Death Tarot card, we can see a skeleton wearing body armor riding a beautiful white horse. The skeleton symbolizes survival, armor shows the power that death is unbeatable and the Beautiful White house denotes the purity of life. The overall representation of the death tarot card is not negative at all. It is often misunderstood, and that's the reason people usually fear this card. However, it indicates the transformation of life.
The Death Card meaning in Love
The Upright Death Card expresses the ongoing relationship complications. It indicates that things among the partners are not going well. If one wants to continue or improve their relationship, he/she needs to put some effort into changing and lifting things up. Sometimes, this card also indicates the end of the relationship. It's the transformation from one love life to another one.
The Death Card Meaning in Career
If you're not satisfied with your career and things are not in the right direction, upright Death Cards indicate the career change. That means you need to put an end to the frustration and should stop following that career. The current career might be offering you stability and safe financial outcomes, but it's eating you from the inside, and you must change it. When you close this door, the next door will be opened for you, which will offer you more comfort.
The Death Card Meaning in Money
Suppose you're struggling with the money or bearing a loss in your business or any other financial resources. In that case, that is the signal of the transformation of your relationship with the money. This card indicates a learning lesson from this situation, which will help you in tackling your money problems.
The Death Card Meaning in Health
Taking about the heath, you must be panicking that this card may indicate physical death. It does but in rare cases. Instead, most of the time, this card is pointing towards unhealthy activities that could improve your health if left. These activities include alcohol consumption, bad food choices, etc.
The reversed death card meaning is also transformation but the only difference in the reverse card is that it indicates those changes that one has been avoiding and showing resistance about.
The Death Card Reversed meaning in Love:
Suppose your relationship has come to a stop where you're no longer helping each other. In that case, the reversed death card indicates that you can revive this relationship by putting in dynamic efforts.
The Death Card Reversed Meaning in Career:
You're not doing well in a job or business but still pushing hard to survive or hold on to that job. This resistance has been stopped, and you need to accept the change for a better career.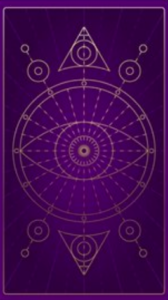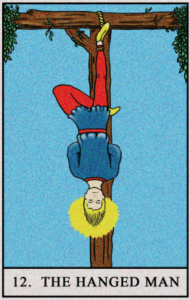 The Hanged Man Tarot card shows an upside-down man hanged by his leg to a tree. The hanging man represents free will. We can say that by observing that his left foot is free and his hands are behind his back while his facial expressions are serene. Generally, this card signals uncertainty, the situation of being trapped into something willingly, and a lackness of the right direction.
The Hanged Man Card Upright Meaning
In an upright direction, this card signals sacrifice and contemplation. This card helps you in making critical decisions that are ultimately best for you.
The Hanged Man Card Upright Meaning in Love
If you're in a relationship that is not so romantic and joyful at the moment. The Hanged man card in an upright position signifies that you need to step back and give your relationship a rest. In that time, you and your partner could rethink the relationship and make it better. Or, if you find that you're not happy, you can call this relationship off willingly. If you're single, this signals that you should get out of the negative people circle and release all the negative feelings.
The Hanged ManCard Upright Meaning in Career
Are you not sure about your job or next business? This card can be a signal to take some time out to plan your next move.
The Hanged Man Card Upright Meaning in Money
If you're struggling with money, this is card signals towards the opportunity to turn that situation into money. Look around yourself and change your perspective about money, opening your mind to pick the right move.
The Hanged Man Card Reversed Meaning
The Hanged Man in reversed position denotes negative patterns, stagnation. This card might be an indication for you that you're making bad decisions impulsively, and you need to stop and consider the situation.
The Hanged Man Card Reversed meaning in Love.
It's time to make some changes in your love life if you're in a relationship. You need to revamp it without making the unnecessary sacrifice. This will balance your relationship. If you're single, this card indicates that the wait is over. You need to fresh your mind from toxic ex-relationships, and you'll be soon meeting your soulmate.
The Hanged ManCard Reversed Meaning in Career
If things are not going well in your career, this career signals stalling for some time and take the decision on which you've been procrastinating for a long time. Stop sacrificing yourself for a career. Once you do that, you will seek new opportunities.
The Hanged Man Card Reversed Meaning in Money
Do you always find yourself in a situation where you hesitate to take the final step in making any investment? If that's true, this card indicates that you need to figure yourself out well and take the next step. You can take counseling from a financial expert as well.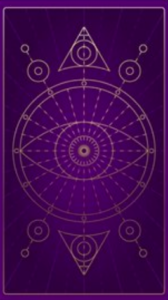 General representation: time for self-reflection and actions' evaluation
When it comes to love, the upright Judgement card may suggest a danger that you and your partner are not fully appreciating one another even if you both consider your relationship as important. You can overcome this threat by being open to each other.
You or your partner are in the process of changing. You should take action and not cling to the status quo if you want to keep your relationship working.