Before shuffling just focus on your question
Click on the card twice to read the description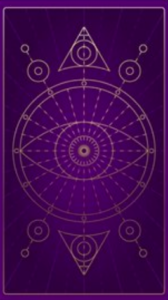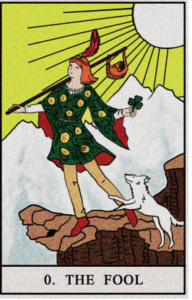 The Fool Card meaning in Love
If you are single and looking for a girlfriend this card indicates that you never have a hard time to find someone to get in a romantic relationship. Your future girlfriend is going to be a fun person to hang out with although she might not be ready yet for a long term relationship.
If you are already taken, the card can be an indication of something exciting between you and your partner and accomplishment of something together. This can be marriage, engagement , experiencing something new, travelling to new destinations and etc.. If you want to find out more about how your potential partner feels about you, the fool card indicates that your partner enjoys spending time with you however she / he is not ready to settle down with anyone yet.
Upright fool card is a clear indication of an unexpected new adventure that may require you to be courageous to take some risks. If you do, you will be well rewarded. This card can also mean travelling to new destinations and experiencing new cultures.
The Fool Card Meaning in Career
The fool card indicates your dedication and love for your job or business . Try to focus on core important elements of your work rather than focusing creative and fun stuff. The Fool is a great card to receive when you're just beginning a new job or business venture, the only drawback being that you can be so enthusiastic about your work that you stop acting like a professional. Success is around the corner if you let go of your fears and devote yourself to your career .
The fool card meaning in Money
Sign of opportunities and advancement in your career. It's a clear indication that you will be rewarded very soon. It can also be the sign of a new business project or a promotion
The fool card meaning in health
If you are healthy , you can expect to stay that way. If you are sick , you will get better soon!
The fool card reversed meaning
It's an indication of ignorant negligent behavior. You should stop disregarding the effects of your actions on other people around you.
The fool card reversed meaning in Love :
If you are in a relationship, one of you is not very serious. One of you loves being free and independent and this will sour your relationship. The card suggests that you don't have a future together as a couple.
The fool reversed meaning in career:
Definitely not a good time to invest in something or to start new projects. The reversed fool card is actually a warning for you. Things may seem too good to be true and you should be very careful when taking decisions.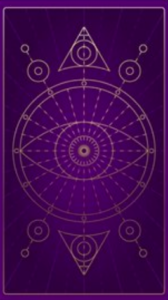 The Empress Tarot card consists of a throned mature woman surrounded by true nature. Her outlook represents the goddess and luxury. There is greenery everywhere in her surrounding. This Empress card overall represents nature and femininity.
Empress Card Upright Meaning
The Upright Empress card denotes creativity, abundance, and sensuality. It connects us with the nature and happiness of life. Also, helps the people to understand themselves better and bring happiness in their life.
Empress Card Upright Meaning in Love
In an upright manner, the Empathy card has a very positive indication for both people, singles, and couples. If you're in a relationship, it signifies that your partner is truly committed. Also, it indicates romance, sex, and pregnancy. So, if you're not ready, better start keeping the safety. For singles, it's a signal that they will be getting their right one pretty soon.
Empress Card Upright Meaning in Career
Having a nurturing environment at your workplace would help you in boosting the momentum. This card represents creativity and inspiration. If you're joining a new place, you'll get the company of very good co-workers.
Empress Card Upright Meaning in Money
If having a bad time dealing with Finances, this card signifies the upcoming good flow of money. So, if you're thinking about investing, go for it.
Empress card reversed has a negative indication. It points out insecurity, lack of growth, and negligence. One must embrace himself of their feminine qualities, be it, men or women, because we all have them inside us. Embracing them will help us to grow, and this card is the indicator of that.
Empress Card Reversed meaning in Love:
If you love your partner and not giving her enough attention due to any reason. This card indicates that he or she needs it to boost self-worth. You can try making little gestures like taking your partner on a dinner date or movie or try some romantic gift. For single, it's an indication of many potential people who will try to ask you out soon.
Empress Card Reversed Meaning in Career:
If you're in a career or business which is not of your interest. This card indicates you take the bold decision and stop following it. Instead, follow your true interest, which will make you successful without draining the energy out of you.
Empress Card Reversed Meaning in Money:
Sometimes we find ourselves feeling unstable even after having enough finances. The reason might be something not right inside you. This card suggests that you should not ignore this feeling and deal with your inner self, and start being confident about yourself. Make all the reasonable investment choices, don't help back!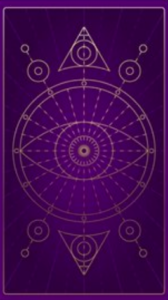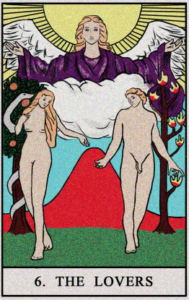 The Lovers card consists of two lovers, a man and a woman. There is an angel between whose blessing and protecting them. The couple is nude, and their body posture shows that they are happy and secured. This card generally signifies the temptation, balance, and union between two opposite forces.
The Lovers Card Upright Meaning:
The Lovers card in the upright position overall represents the Soul mates, relationships, desires, and sexual connections. This helps one to understand what he values in his life. So, you can make better choices and bring your life the right balance.
The Lovers Card Upright Meaning in Love :
We all make sacrifices for something we love. This card signals the same that you need to make sacrifices to have true love. The love can be in between partners, friends, and even families. If you're not doing well in a relationship with any single of them, you need to sacrifice your ego or yourself to make the relationships work.
The Lovers Card Upright Meaning in Career:
If you're looking for a partner in your business, this card may be a signal for the right one. This partnership would be successful for both of you. But there would surely risk attached with it which you must intend to take.
The Lovers Card Upright Meaning in Money :
As humans, we all are afraid to take risks. Especially the financial risks because they can make or break the person. The Lovers card in the upright position signals to make big decisions now. You might need to choose between several investments. So, take risks and choose wisely. It will open new doors for you.
The Lovers card reversed indicates trusting issues and conflicts. Sometimes these things ruin relationships, and we find ourselves clueless that what to do—this card aids in making those critical decisions.
The Lovers Card Reversed meaning in Love:
Is your relationship has lost all its warmth and become cold? The reversed Lovers card indicates the detached partner and signals towards the imbalanced relationship. You need to make efforts and resolve the issues to get closer to each other once again.
The Lovers Card Reversed Meaning in Career:
Conflicts among partners and colleagues bring disaster to business or the workplace. This card indicates you should work on them and ensure that you and your partner are on the same page prior to making any business arrangement; otherwise, the business might cause you a huge loss.
The Lovers Card Reversed Meaning in Money:
If you're being driven by your impulses and squandering money, this card is the signal that your financial position might get compromised soon. So, it's time to make the wises choices and spend your money more responsively on the things you can genuinely afford.