Before shuffling just focus on your question
Click on the card twice to read the description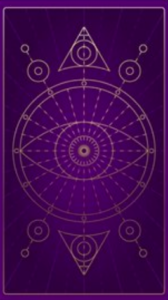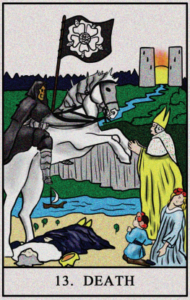 What does the Death Tarot Card Mean?
In the upright Death Tarot card, we can see a skeleton wearing body armor riding a beautiful white horse. The skeleton symbolizes survival, armor shows the power that death is unbeatable and the Beautiful White house denotes the purity of life. The overall representation of the death tarot card is not negative at all. It is often misunderstood, and that's the reason people usually fear this card. However, it indicates the transformation of life.
The Death Card meaning in Love
The Upright Death Card expresses the ongoing relationship complications. It indicates that things among the partners are not going well. If one wants to continue or improve their relationship, he/she needs to put some effort into changing and lifting things up. Sometimes, this card also indicates the end of the relationship. It's the transformation from one love life to another one.
The Death Card Meaning in Career
If you're not satisfied with your career and things are not in the right direction, upright Death Cards indicate the career change. That means you need to put an end to the frustration and should stop following that career. The current career might be offering you stability and safe financial outcomes, but it's eating you from the inside, and you must change it. When you close this door, the next door will be opened for you, which will offer you more comfort.
The Death Card Meaning in Money
Suppose you're struggling with the money or bearing a loss in your business or any other financial resources. In that case, that is the signal of the transformation of your relationship with the money. This card indicates a learning lesson from this situation, which will help you in tackling your money problems.
The Death Card Meaning in Health
Taking about the heath, you must be panicking that this card may indicate physical death. It does but in rare cases. Instead, most of the time, this card is pointing towards unhealthy activities that could improve your health if left. These activities include alcohol consumption, bad food choices, etc.
The reversed death card meaning is also transformation but the only difference in the reverse card is that it indicates those changes that one has been avoiding and showing resistance about.
The Death Card Reversed meaning in Love:
Suppose your relationship has come to a stop where you're no longer helping each other. In that case, the reversed death card indicates that you can revive this relationship by putting in dynamic efforts.
The Death Card Reversed Meaning in Career:
You're not doing well in a job or business but still pushing hard to survive or hold on to that job. This resistance has been stopped, and you need to accept the change for a better career.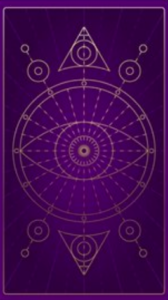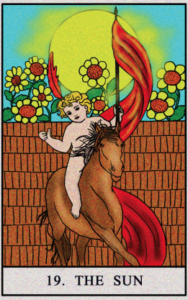 The Sun Tarot card generally represents positivity, optimism and feelings of fulfilment. When the card is in the upright position, it signals that joy and happiness are coming to you. It also represents success and confidence. So, continue whatever you're doing, and you'll be getting the joy of success soon.
The Upright Sun Card meaning in Love :
An upright sun card represents the successful relationship and signals towards making your relationship better by putting more efforts to get close to each other. If you're single, this card shows that it's the perfect time to start a relationship.
The Upright Sun Card Meaning in Career:
If you're switching to a new job or investing in any new business, it signifies that you stay optimistic as you'll be getting success and happiness.
The Upright Sun Card Meaning in Money:
If you're financially stables and things have been working out of your latest, then you'll be soon revealing some hidden factor for that you should keep some money at the side.
The Upright Sun Card Meaning in Health:
If you're perfectly healthy, the sun card represents you should be grateful and stay away from the unhealthy activities. In case one is going through health problems, that problems would leave you soon.
The Sun Card Reversed Meaning
The Sun card reversed represents a lack of enthusiasm, sadness, depression, pessimism, and unrealistic expectations. But this card doesn't necessarily mean that you're in a bad situation, but it indicates your feelings and your focus on negativity. In short, you're losing the sight and being unrealistic, which you must tackle.
The Sun Card Reversed meaning in Love
The sun shines bright even after getting blocked by the clouds temporarily. So, if you're in a relationship with someone, you might be facing some issues with your partner or not feeling the love and happiness, but the reversed sun signals that thing will be sorted out soon, and you'll be happy once again. If you're single, this card represents a relationship is in your way, and you should accept it.
The Sun Card Reversed Meaning in Career
Being human, we are sometimes played by our thoughts, which results in missing and ignoring the things in front of us. A reversed sun card suggests that you may feel exhausted at your workplace due to certain circumstances like a promotion you deserve. Besides getting depressed over it or walking out of the situation, you should bring this matter to your boss and request your promotion.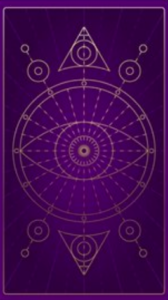 The upright version has an illustration of a creature having both man and goat-like features. Two individuals who appear to be humans are attached to the stool with chains on which the Devil is standing. The card indicates negativity, materialism, void, lust, and entrapment.
The Devil Card meaning in Love:
In a love reading Devil represents lust and desire. It indicates that someone is not ready for commitment, just wanting something temporary. It indicates addiction and dependency.
The Devil Card meaning in Career:
In terms of career, it indicates the feeling of stillness and enforcement. A person might feel that he is forced to work at the current job or pursue a certain career regardless of his own choice.
The Devil Card meaning in Money:
It shows that a person is having difficulty handling the finances, or they simply have poor management skills when it comes to money. They are spending way too much, and this keeps them stressed.
The Devil Card meaning in Health:
In terms of health, it means that a person is overindulging in some factors that can influence their overall health. It also indicates mental health problems.
The reversed version represents the moment of self-awareness where a person overcomes bad habits and addictive behaviour. It indicates that an individual can regain lost dignity.
The Devil Card reversed meaning in Love:
This represents the tendency to come out of a hurtful situation to know what you want from life in terms of love.
The Devil Card reversed meaning in Career:
In a career reading, the card emphasizes that you don't depend on your job to seek stability in your life anymore. It also means that a person is fully capable of flourishing in terms of career.