Get ready to dive into the amazing world of tarot card reading!
Lotus Tarot Card Reading is an exceptional way to know what kind of fortune waits ahead in the future. It can help you in different aspects of life especially during difficult times. For instance; When you are bothered by problems or distressed by your thoughts, tarot card readings will always help you ponder on the reflection of your past or give insights of your present, and focus on the positive energies of your future.
It is true that the power of the universe is totally limitless! Consulting the cards will help you contact your Higher Self. You will learn why getting in touch with your intuition is so important to manifest the best assistance from your spiritual guide. A relaxed mind and honest emotions will help you get through difficult choices and decisions.
Click on the card twice to read the description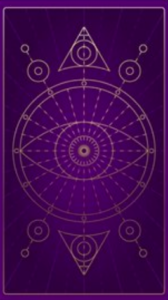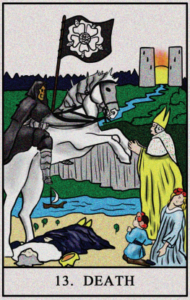 What does the Death Tarot Card Mean?
In the upright Death Tarot card, we can see a skeleton wearing body armor riding a beautiful white horse. The skeleton symbolizes survival, armor shows the power that death is unbeatable and the Beautiful White house denotes the purity of life. The overall representation of the death tarot card is not negative at all. It is often misunderstood, and that's the reason people usually fear this card. However, it indicates the transformation of life.
The Death Card meaning in Love
The Upright Death Card expresses the ongoing relationship complications. It indicates that things among the partners are not going well. If one wants to continue or improve their relationship, he/she needs to put some effort into changing and lifting things up. Sometimes, this card also indicates the end of the relationship. It's the transformation from one love life to another one.
The Death Card Meaning in Career
If you're not satisfied with your career and things are not in the right direction, upright Death Cards indicate the career change. That means you need to put an end to the frustration and should stop following that career. The current career might be offering you stability and safe financial outcomes, but it's eating you from the inside, and you must change it. When you close this door, the next door will be opened for you, which will offer you more comfort.
The Death Card Meaning in Money
Suppose you're struggling with the money or bearing a loss in your business or any other financial resources. In that case, that is the signal of the transformation of your relationship with the money. This card indicates a learning lesson from this situation, which will help you in tackling your money problems.
The Death Card Meaning in Health
Taking about the heath, you must be panicking that this card may indicate physical death. It does but in rare cases. Instead, most of the time, this card is pointing towards unhealthy activities that could improve your health if left. These activities include alcohol consumption, bad food choices, etc.
The reversed death card meaning is also transformation but the only difference in the reverse card is that it indicates those changes that one has been avoiding and showing resistance about.
The Death Card Reversed meaning in Love:
Suppose your relationship has come to a stop where you're no longer helping each other. In that case, the reversed death card indicates that you can revive this relationship by putting in dynamic efforts.
The Death Card Reversed Meaning in Career:
You're not doing well in a job or business but still pushing hard to survive or hold on to that job. This resistance has been stopped, and you need to accept the change for a better career.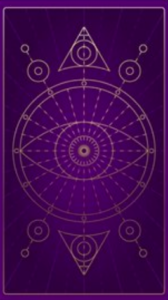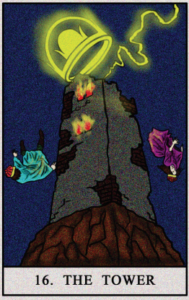 The Tower Tarot card or the most terrifying card in the deck generally indicates chaos and survival. The flaming tower image with the devil shows the destruction which needs to be done in order to move forward.
The Tower card in upright position indicates abuse, violence, natural disaster, loss, tragedies. In short, all the things you should be afraid of. If this card shows that means big changes are on their way to your life. So, you can use these indicators to prepare yourself for dealing with them.
The Tower Card Upright Meaning in Love :
Your relationship might take some wrong turns in the coming days. The Tower in an upright manner indicates a separation, breakup, or even a divorce. So, if your relationship is going through a rough time you need to prepare yourself to survive the upcoming destruction. But it can also mean the destruction might eliminate the reason that is damaging your relationship and you both will come close after a hard time.
The Tower Card Upright Meaning in Career:
You need to prepare yourself for a laying over or big changes in your career. That means that you'll have to handle stress at a workplace or business which might frustrate you.
The Tower Card Upright Meaning in Money :
It's an indication to prepare your finances and savings for your sudden losses so you can rely on them and pass that time.
The Tower Card Reversed Meaning:
Tower card in reversed position shows resistance or avoidance of things. So, this card tells that you need to stop resistance and face the hardships to start the new beginning.
The Tower Card Reversed meaning in Love:
If you're in a relationship and experiencing distantness, pain, and not doing anything about it. This card indicates that towards making adjustments to your relationship and let your partner know how you feel or leave the weak relationship.
The Tower Card Reversed Meaning in Career:
You may be feeling secured about your current job and career but you need to stay prepared for the worst. This card indicates that your career might take some unexpected turns which can put you in a vulnerable position. So, if you're thinking you're past the layoffs, that's not true.
The Tower Card Reversed Meaning in Money:
The Tower Tarot Card reversed signifies the acceptance and declaration of financial defeat. Most of the time we try so hard for survival but in reality, we don't make any progress and get the delayed defeat. So, this card suggests that you need to accept it to find peace. For example; you're just invested in a property you can't afford so you should sell it.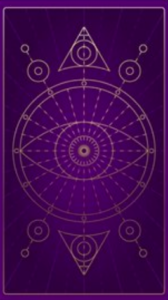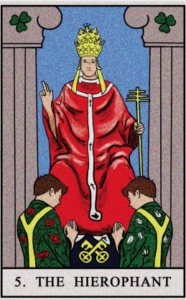 The Hierophant tarot card is based on a society that functions according to conventional norms. The core idea behind this card is that it represents things being done legitimately, which people will follow and accept.
The Hierophant card meaning in love:
When you set out in search of true love, you can rest assured that your efforts will not go wasted. This is because you will most likely engage in a healthy relationship that will be based on a long-term commitment.
The Hierophant card meaning in career:
If you want to be successful in your career, you should avoid shortcuts at all costs. You'll be much better off provided you take the challenging path to success.
The Hierophant card meaning in money:
Searching for unconventional ways of generating money will only drain you out. Try and figure out how other people are making money and what steps they're taking to generate their income.
The Hierophant card meaning in health:
You will start experiencing good health once you try out the conventional means of healing. Also, try to incorporate daily exercise into your routine to enhance your immune system.
The Hierophant card reversed meaning in love:
At times a relationship can end up not conforming to the conventional norms. It's a relationship based on inequality between the partners due to distinct genders. As a result, this can lead to a broken partnership.
The Hierophant card reversed meaning in career:
In the workplace, there can sometimes be an imbalance of power in the hierarchical chain of command. The directors or managers may use their power to make employers obey and follow their principles.
The Hierophant card reversed meaning in money:
People may give you advice in terms of earning a better living. For the most part, seeking advice is not a bad thing. However, it's best to stick to what you're most comfortable with, no matter how tempting other money-making ventures may seem.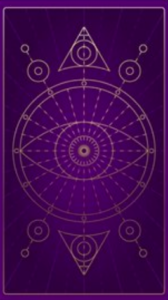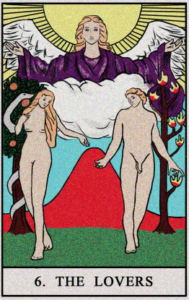 The Lovers card consists of two lovers, a man and a woman. There is an angel between whose blessing and protecting them. The couple is nude, and their body posture shows that they are happy and secured. This card generally signifies the temptation, balance, and union between two opposite forces.
The Lovers Card Upright Meaning:
The Lovers card in the upright position overall represents the Soul mates, relationships, desires, and sexual connections. This helps one to understand what he values in his life. So, you can make better choices and bring your life the right balance.
The Lovers Card Upright Meaning in Love :
We all make sacrifices for something we love. This card signals the same that you need to make sacrifices to have true love. The love can be in between partners, friends, and even families. If you're not doing well in a relationship with any single of them, you need to sacrifice your ego or yourself to make the relationships work.
The Lovers Card Upright Meaning in Career:
If you're looking for a partner in your business, this card may be a signal for the right one. This partnership would be successful for both of you. But there would surely risk attached with it which you must intend to take.
The Lovers Card Upright Meaning in Money :
As humans, we all are afraid to take risks. Especially the financial risks because they can make or break the person. The Lovers card in the upright position signals to make big decisions now. You might need to choose between several investments. So, take risks and choose wisely. It will open new doors for you.
The Lovers card reversed indicates trusting issues and conflicts. Sometimes these things ruin relationships, and we find ourselves clueless that what to do—this card aids in making those critical decisions.
The Lovers Card Reversed meaning in Love:
Is your relationship has lost all its warmth and become cold? The reversed Lovers card indicates the detached partner and signals towards the imbalanced relationship. You need to make efforts and resolve the issues to get closer to each other once again.
The Lovers Card Reversed Meaning in Career:
Conflicts among partners and colleagues bring disaster to business or the workplace. This card indicates you should work on them and ensure that you and your partner are on the same page prior to making any business arrangement; otherwise, the business might cause you a huge loss.
The Lovers Card Reversed Meaning in Money:
If you're being driven by your impulses and squandering money, this card is the signal that your financial position might get compromised soon. So, it's time to make the wises choices and spend your money more responsively on the things you can genuinely afford.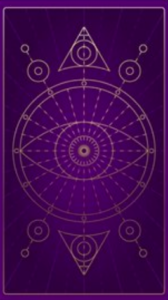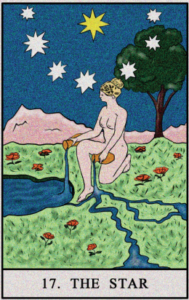 The star tarot card reflects a sense of optimism. This means that one can always expect things to work out even if situations seem dire. If you possess this Arcana card, you will feel more motivated and inspired to take on a challenge, no matter how difficult it may be.
The Star Card meaning in Love:
If you've previously been in a relationship that made you feel bad or upset, you shouldn't be bothered about it anymore. The star card suggests that someone better is awaiting you.
Whoever this person is, you'll be ready to meet them with a positive and happy mindset.
The Star Card meaning in Career:
Searching for the perfect career path is something that you should not stress over. Many opportunities will be coming your way, and some of them will come in the most unexpected of ways. So be patient and optimistic as greatness is destined for you.
.
The Star Card meaning in Money:
If you're in a tight spot financially, you should be spending your money in a well-thought-out manner. To be more specific, you should be investing rather than simply spending. Therefore, look for profitable opportunities you could invest your money in. For all you know, you might just hit the jackpot.
The Star card meaning in Health:
If you constantly feel sick or ill, don't worry. All your ailments will soon fade away. The star card indicates that good health will come your way, and you'll be feeling better in no time.
The reverse aspect of love suggests that you no longer feel the same energy in your relationship as before. In other words, you're no longer confident about the relationship, which makes you want to give up on it.
The Star Card reversed meaning in Career:
Carrying out your everyday routine might have gotten boring for you. You might find the monotonous tasks of your job to be discouraging or unrewarding.
The Star Card reversed meaning in Money:
If you haven't been able to grow financially, there might be a possibility that you're doing something wrong. You should review your money-making strategies and see how you could improve them. Things might not work out at first, but remember every cloud has a silver lining.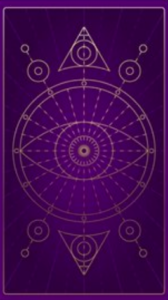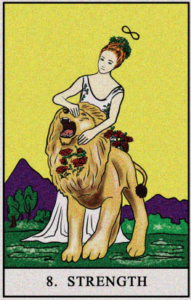 Strength Tarot card consists of a mature woman holding the jaws of a strong and fully-grown lion. That represents domination, control, bravery, and courage. The lion itself symbolizes courage and survival. So, the card generally connects survival with control and bravery.
Strength Card Upright Meaning
A strength card in the upright position generally represents the person's ability to overcome distressful situations and the presence of inner strength in him or her.
Strength Card Upright Meaning in Love
A strength card in an upright manner signifies a strong relationship that consists of intense feelings. This type of relationship has its pros and cons, like obsession and jealousy at the same time. So, you need to use your inner strength to tackle the cons of this relationship or your partner, which will further bring both of you to each other.
Strength Card Upright Meaning in Money and Career
If you're someone whose emotions always lead him or gets in his way of career and business, this card indicates that it needs to be stopped. It's time you master the skill of self-control and lead your life. You've enough skills and courage to do that. If you've always wished to run your own business but failed due to emotions and fears of failure, it's time you take the courage and proceed. Your investment will pay your back, and there will be an inflow of money.
Strength Card Upright Meaning in Health
Are you facing any health issues? This card is a signal that your health is getting better and you're getting your strength back. So, start training your mind and bring positive changes to your life.
Strength Card Reversed Meaning:
The strength card in the upright position represents self-doubt, vulnerabilities, and a feeling of not being enough or ready. If this card shows up, that means you're going to experience or already experiencing fear or anger. You've forgotten all the good of yourself and life around you, which is weakening you.
Strength Card Reversed meaning in Love:
You need to reduce the dependency on your partner or relationship and incline yourself towards your own interest. It's important to make your relationship strong. This card may also reflect the domination of one partner on the other.
Strength Card Reversed Meaning in Career and Money:
Are you feeling the continuous fear or stress to move forward in your career or take critical business decisions? This card indicates that your being discourages, and you need to let go of the fear of failure, which will make your career or business successful. You need to invest your money smartly.
Strength Card Reversed Meaning in Health:
This indicates the lack of self-control in managing your desires that are harmful to your health. That may include alcohol consumption, drugs, or bad food choices. Don't let it control you.
An angel tarot will read with the angel tarot cards. These cards are in the standard size deck of all Tarot cards, but they are shown as pictures of angels. It is thought that because they are sent as divine messengers to us, they can pass through the various aspects of time and space. You […]

---
List of Lotus Tarot readings

Yes Or No Lotus Reading
Love Lotus Reading
One Card Lotus Reading
6 card Lotus Reading
For those people who feel that there is more than what the eyes can see, then this is the right guidance you've been trying to find for so long. It is normal for us to be very confused about how we think and feel. The assistance of tarot card reading will help you free your mind about the uncertainties in your life. If you are seeking guidance for love, life, career and other personal interests, consulting an expert is always recommendable.
Tarot card reading is an amazing tool that can help a person receiving the guidance . It will help you understand what you need to know about your specific issues. It will allow you to gain a deeper understanding of a situation and assist you to choose the best steps to take.
Lotus Tarot help you access useful information about your future
This is such a great opportunity to focus on yourself. It is indeed an effective way to help you access the useful predictions about your future. Keeping the doors open for variety of choices is also necessary to achieve great results. Do not convey a biased image inside your mind. Perhaps, let yourself totally loose to the strong intuitive powers of the Tarot Cards. The answer to your questions is here. Your destiny and life path guide is one connection away from you. We are certain that you'll find the best online psychic who is meant to be your medium to deliver the message of the universe.
Let your mind be free and let the cards do its job!