Free love tarot – What is He Thinking About Me?
Last Updated on
That special person who is yet to enter your life is a total mystery. You might already have your eyes on someone, but you're not sure if they're the one. You might also want to engage in a conversation with them, however you do not know what is he thinking about you and what would be their response. Especially as a woman, you might be thinking, Does he want me?,What is he thinking? What does he think of me? Does he love me ? How does he feel about me? All these thoughts will constantly ponder in your head until you finally know what you're looking for. To uncover these mysterious thoughts, you can position a three card love tarot to figure out what your love life will look like. You can see three cards below that are drawn for you. The three positions are also explained below.
Here is your Free Love Life Tarot Spread, Find Out What he is thinking.
First Card: Do The Two Of You Exist In Each Other's Minds Second Card:Will This Relationship Be Meaningful Or A Waste of Time? Third Card: Future
Click on the card twice to read the description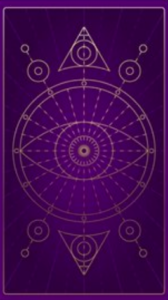 If the moon appears as one of the last cards in your reading, it indicates that your soul's journey is coming to an end. rd, You should isolate yourself from distractions and turn into your inner world for a long journey of discovery. You may have many unanswered questions in mind about love, career or health, and the answers you are looking for are inside you. To find answers, You just need to focus on your inner world and isolate yourself from outside distractions. The moon card may also be telling you not to let your fears interrupt your love & life goals.
Love:
The moon card is a strong indication of new decisions, new paths, or a desire for change. If your partner is not willing to change you could decide separating. If you are not in a relationship but have strong interest in somebody, watch out. Your interest may have a secret agenda.
The reversed moon card can be an indication of the imbalance in your life. It may also be a suggestion for you to seek assistance from a professional or a loved one around you.
Career:
You may be experiencing some difficulties with your coworkers at your workplace, try to communicate with them. Clarifying things may be difficult sometimes but it is essential to find the balance in your career. If you are currently unemployed, do not feel lost. Always try to explore new opportunities. You will eventually find something that fits you.
Health:
This may be an indication of an unhealthy mental state . Speaking to a health professional or a loved one can turn things around.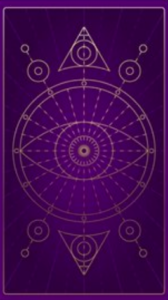 The emperor tarot card is known to have a fatherly figure over the other tarot cards. In simple terms, this card represents acts of a disciple, hard work, ambition, and integrity. Moreover, the emperor card reflects a character who you would look towards for counseling.
The Emperor card meaning in Love:
In the context of love, the emperor tarot card represents a relationship with older men (considering that the person who wants to engage in the relationship is single and interested in men).
The Emperor card meaning in Career:
According to the emperor tarot card, the hard work and effort that you put into your career will reap your sweet fruits. You just need to stay focused and keep your eye on the prize.
The Emperor card meaning in money:
When it comes to finances, the emperor tarot card suggests that you should manage/spend your money responsibly. Trust your gut and spend where and when you deem appropriate.
The Emperor card meaning in Health:
Health-wise, the emperor card signs that you should take care of yourself and not over-exert your daily activities. Keep your routine light and try not to engage in activities that will drain you out.
A reversed emperor card is the exact opposite of what was discussed in the first paragraph. A reversed emperor card represents laziness, procrastination, misuse of power, and inappropriate behavior.
The Emperor card reversed meaning in Love:
An emperor card being reversed in love means that there is instability within the relationship. Moreover, there is a misuse of power which leads to an unhealthy and unhappy relationship.
The Emperor Card reversed meaning in Career:
The emperor card being reversed in the career context would mean that one is not putting in the work and effort to achieve desired goals. This is mainly due to procrastination and inconsistency.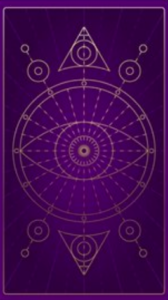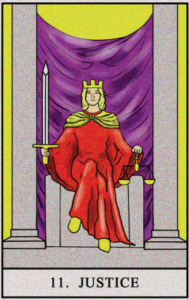 As the name suggests, the Justice Tarot card represents fair law and truthness. You can see that by looking at the figure of justice sitting in a chair holding a sword in the right and a scale on her left hand which purely shows justice.
Upright Justice Card Meaning:
The upright Justice card represents law, truthfulness, integrity, karma, cause, and equal consequence. That means whatever choices one makes have a similar and long-term impact on their lives and the lives of their surrounding people.
Upright Justice Card meaning in Love :
If you're someone who's putting continuous effort, you will receive the love and romance ultimately as the upright justice card represents karma. It doesn't matter you're single or in a relationship, the karma law is true for both. So, make sure you treat the person well whom you're in love with.
Upright Justice Card Meaning in Career:
If you're going through a tough time or getting affected by bad workplace politics or any type of dispute you don't need to lose hope as the justice card shows that the thing will be just fine very soon. All you need is to stay honest and fair with your work.
Upright Justice Card Meaning in Money:
The cause and effect apply here. If you're facing any financial trouble, you need to start putting more effort into your work or business, and soon that struggle will be ended. If things are going just fine, take this card as a reminder that you need to keep working with uttermost honesty.
Justice Card Reversed Meaning
The reversed Justice card represents injustice, dishonesty, and lack of accountability. This card will give signals towards taking the responsibility of actions to improve your life.
Justice Card Reversed meaning in Love:
Love is not a fair deal. It's not just about giving and taking. Sometimes you can love someone more and receive less in return or vice versa. So, if you're someone going through this situation should hold on to the relationship. Take full responsibility, and things will get better for both of you.
Justice Card Reversed Meaning in Career:
At times we face unfair situations in the workplace. This includes your boss treating you unjustly or putting his blame on you. This card shows that even if it feels like you can't take anymore and want to burst out of words, but you need to relax and handle this situation calmly without making it worse.
Justice Card Reversed Meaning in Money:
Reversed Justice card symbolizes that there might be dishonesty in your finances. It can be due to sharing your financial information with the wrong person or mishandling your finance.
On a free love tarot what is he thinking spread you might get answers for :
What is he thinking ?.
Is he attracted to me?
When will i meet my soulmate ?
Is he my soulmate?
Will he marry me?
Does he love me?
Future husband and future love?
What he feels for you?
Will he contact me again?
Does he miss me?
Does he want me?
Will he come back to me?
How Does He Feel about me
First Card: Do The Two Of You Exist In Each Other's Minds?
The first card will give you insight into whether the two of you exist in each other's minds. The person you like should have acknowledged your presence and know that you exist. This is important because recollecting each other's presence will help in understanding other mind-boggling questions. For instance, if you're a girl who likes a boy, you'd want to know What he feels for you, does he love me, is he thinking of me, is he attracted to me? You'd also want to know if the feeling's mutual. After figuring this part out, you'll be in a better position to understand whether the two of you are compatible with each other or not. If such compatibility exists, you'll need to be extra attentive to any connections that might arise from your interactions.
Second Card: Will This Relationship Be Meaningful Or A Waste of Time?
When in love, an hour will seem like a minute. The question is, will spending those hours with the person you love be meaningful or a waste of time? You'll need to ask yourself this question before entering into a commitment with someone. You might have planned out your life with this person for the next 20 years. However, your lover may have other plans. For example, when starting a relationship, women will, in most cases, have these questions in mind; Will he marry me? Is he my soulmate? Or will he be my Future husband and future love? Therefore, give these things some deep thought before making any commitments. Nonetheless, the card you draw will only give you guidance in terms of what course of action you should take. The rest is up to you to decide.
Third Card: What Will Your Future be Like?
The last card/position will give you some decent insights into where your relationship is heading. Needless to say, this card will not be realistically accurate. However, it will give you a little hint as to how easy or how difficult it will be to maintain your relationship. Irrespective of what the drawn card suggests, you should be optimistic about your relationship. Be hopeful that things will turn out just the way you want them to. And if things start to go south, try to be wary of the things that might be causing all those problems. Being in love feels great, so if you're able to sustain that love, let nothing come in your way.