What does The Strength Tarot Card Mean? Copy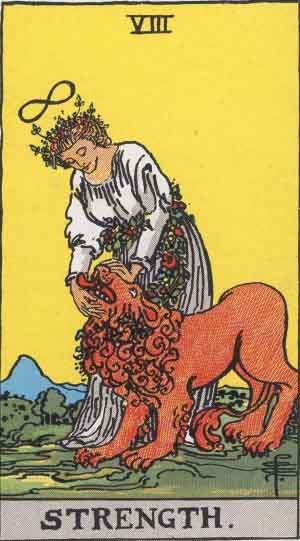 Strength Tarot card consists of a mature woman holding the jaws of a strong and fully-grown lion. That represents domination, control, bravery, and courage. The lion itself symbolizes courage and survival. So, the card generally connects survival with control and bravery.
Strength Card Upright Meaning
A strength card in the upright position generally represents the person's ability to overcome distressful situations and the presence of inner strength in him or her.
Strength Card Upright Meaning in Love
A strength card in an upright manner signifies a strong relationship that consists of intense feelings. This type of relationship has its pros and cons, like obsession and jealousy at the same time. So, you need to use your inner strength to tackle the cons of this relationship or your partner, which will further bring both of you to each other.
Strength Card Upright Meaning in Money and Career
If you're someone whose emotions always lead him or gets in his way of career and business, this card indicates that it needs to be stopped. It's time you master the skill of self-control and lead your life. You've enough skills and courage to do that. If you've always wished to run your own business but failed due to emotions and fears of failure, it's time you take the courage and proceed. Your investment will pay your back, and there will be an inflow of money.
Strength Card Upright Meaning in Health
Are you facing any health issues? This card is a signal that your health is getting better and you're getting your strength back. So, start training your mind and bring positive changes to your life.
Strength Card Reversed Meaning
The strength card in the upright position represents self-doubt, vulnerabilities, and a feeling of not being enough or ready. If this card shows up, that means you're going to experience or already experiencing fear or anger. You've forgotten all the good of yourself and life around you, which is weakening you.
Strength Card Reversed meaning in Love.
You need to reduce the dependency on your partner or relationship and incline yourself towards your own interest. It's important to make your relationship strong. This card may also reflect the domination of one partner on the other.
Strength Card Reversed Meaning in Career and Money
Are you feeling the continuous fear or stress to move forward in your career or take critical business decisions? This card indicates that your being discourages, and you need to let go of the fear of failure, which will make your career or business successful. You need to invest your money smartly.
Strength Card Reversed Meaning in Health
This indicates the lack of self-control in managing your desires that are harmful to your health. That may include alcohol consumption, drugs, or bad food choices. Don't let it control you.