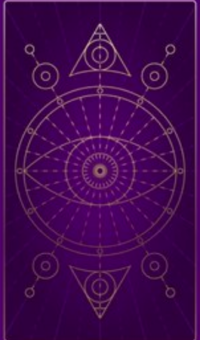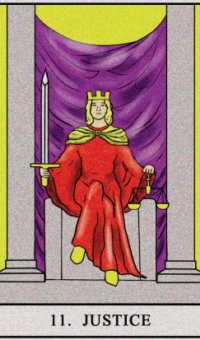 As the name suggests, the Justice Tarot card represents fair law and truthness. You can see that by looking at the figure of justice sitting in a chair holding a sword in the right and a scale on her left hand which purely shows justice.
Upright Justice Card Meaning:
The upright Justice card represents law, truthfulness, integrity, karma, cause, and equal consequence. That means whatever choices one makes have a similar and long-term impact on their lives and the lives of their surrounding people.
Upright Justice Card meaning in Love :
If you're someone who's putting continuous effort, you will receive the love and romance ultimately as the upright justice card represents karma. It doesn't matter you're single or in a relationship, the karma law is true for both. So, make sure you treat the person well whom you're in love with.
Upright Justice Card Meaning in Career:
If you're going through a tough time or getting affected by bad workplace politics or any type of dispute you don't need to lose hope as the justice card shows that the thing will be just fine very soon. All you need is to stay honest and fair with your work.
Upright Justice Card Meaning in Money:
The cause and effect apply here. If you're facing any financial trouble, you need to start putting more effort into your work or business, and soon that struggle will be ended. If things are going just fine, take this card as a reminder that you need to keep working with uttermost honesty.
Justice Card Reversed Meaning
The reversed Justice card represents injustice, dishonesty, and lack of accountability. This card will give signals towards taking the responsibility of actions to improve your life.
Justice Card Reversed meaning in Love:
Love is not a fair deal. It's not just about giving and taking. Sometimes you can love someone more and receive less in return or vice versa. So, if you're someone going through this situation should hold on to the relationship. Take full responsibility, and things will get better for both of you.
Justice Card Reversed Meaning in Career:
At times we face unfair situations in the workplace. This includes your boss treating you unjustly or putting his blame on you. This card shows that even if it feels like you can't take anymore and want to burst out of words, but you need to relax and handle this situation calmly without making it worse.
Justice Card Reversed Meaning in Money:
Reversed Justice card symbolizes that there might be dishonesty in your finances. It can be due to sharing your financial information with the wrong person or mishandling your finance.
Tarot readings date back more than 2500 years and have a rather tested history. For several years the tarot has been used as a divination tool by many people in Europe and has experienced a cycle of development. When you encounter a question, you can't decode often people try tarot card readers. An efficient reader understands the fear and uses the images on the deck to understand the hidden reasons for the problem and also to provide solutions.
Today, we see a very advanced way of reading tarot that helps people to find answers to many questions about the future. In Tarot read, a set of special cards is translated to predict what might happen in future. It is essential that you comprehend tarot and its symbolism in order to understand the responses that a tarot deck can show.
If a person wants a psychic to interpret one card tarot it's because they want to be as simple and succinct as possible to address the query they have asked the medium. Another form of card reading is performed in the case of important questions that annoy a person in order to prevent taking the focus from the first card.
The people who have exceptional perception gifts make all readings of tarot cards. Sometimes the individual that is performing the fortune-telling for you will even be clairvoyant. The clairvoyance is especially useful when you read one card tarot because there is a small amount of visual material accessible to render the description.
Each deck of these cards has various symbols that refer to various things. There are versions with angels and versions like the Thoth decks with many serpentine symbols that reflect them. Decks can be found of animals of all kinds and other images of live and non-living things. Make sure you know what deck you are using and what the symbols are on the various cards.
The decks used by these people in their research include pictures which have psychological meaning. When the photos are combined with other items, the interpretations shift, and looking at only one image provides a sliced and dried reaction, where further photos will show the entire picture