Click on the card twice to read the description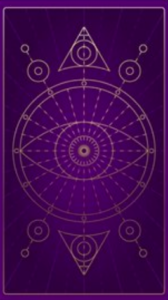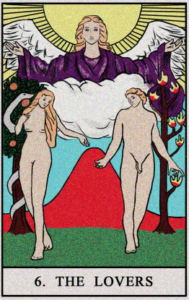 The Lovers card consists of two lovers, a man and a woman. There is an angel between whose blessing and protecting them. The couple is nude, and their body posture shows that they are happy and secured. This card generally signifies the temptation, balance, and union between two opposite forces.
The Lovers Card Upright Meaning:
The Lovers card in the upright position overall represents the Soul mates, relationships, desires, and sexual connections. This helps one to understand what he values in his life. So, you can make better choices and bring your life the right balance.
The Lovers Card Upright Meaning in Love :
We all make sacrifices for something we love. This card signals the same that you need to make sacrifices to have true love. The love can be in between partners, friends, and even families. If you're not doing well in a relationship with any single of them, you need to sacrifice your ego or yourself to make the relationships work.
The Lovers Card Upright Meaning in Career:
If you're looking for a partner in your business, this card may be a signal for the right one. This partnership would be successful for both of you. But there would surely risk attached with it which you must intend to take.
The Lovers Card Upright Meaning in Money :
As humans, we all are afraid to take risks. Especially the financial risks because they can make or break the person. The Lovers card in the upright position signals to make big decisions now. You might need to choose between several investments. So, take risks and choose wisely. It will open new doors for you.
The Lovers card reversed indicates trusting issues and conflicts. Sometimes these things ruin relationships, and we find ourselves clueless that what to do—this card aids in making those critical decisions.
The Lovers Card Reversed meaning in Love:
Is your relationship has lost all its warmth and become cold? The reversed Lovers card indicates the detached partner and signals towards the imbalanced relationship. You need to make efforts and resolve the issues to get closer to each other once again.
The Lovers Card Reversed Meaning in Career:
Conflicts among partners and colleagues bring disaster to business or the workplace. This card indicates you should work on them and ensure that you and your partner are on the same page prior to making any business arrangement; otherwise, the business might cause you a huge loss.
The Lovers Card Reversed Meaning in Money:
If you're being driven by your impulses and squandering money, this card is the signal that your financial position might get compromised soon. So, it's time to make the wises choices and spend your money more responsively on the things you can genuinely afford.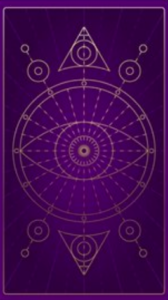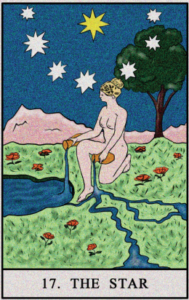 The star tarot card reflects a sense of optimism. This means that one can always expect things to work out even if situations seem dire. If you possess this Arcana card, you will feel more motivated and inspired to take on a challenge, no matter how difficult it may be.
The Star Card meaning in Love:
If you've previously been in a relationship that made you feel bad or upset, you shouldn't be bothered about it anymore. The star card suggests that someone better is awaiting you.
Whoever this person is, you'll be ready to meet them with a positive and happy mindset.
The Star Card meaning in Career:
Searching for the perfect career path is something that you should not stress over. Many opportunities will be coming your way, and some of them will come in the most unexpected of ways. So be patient and optimistic as greatness is destined for you.
.
The Star Card meaning in Money:
If you're in a tight spot financially, you should be spending your money in a well-thought-out manner. To be more specific, you should be investing rather than simply spending. Therefore, look for profitable opportunities you could invest your money in. For all you know, you might just hit the jackpot.
The Star card meaning in Health:
If you constantly feel sick or ill, don't worry. All your ailments will soon fade away. The star card indicates that good health will come your way, and you'll be feeling better in no time.
The reverse aspect of love suggests that you no longer feel the same energy in your relationship as before. In other words, you're no longer confident about the relationship, which makes you want to give up on it.
The Star Card reversed meaning in Career:
Carrying out your everyday routine might have gotten boring for you. You might find the monotonous tasks of your job to be discouraging or unrewarding.
The Star Card reversed meaning in Money:
If you haven't been able to grow financially, there might be a possibility that you're doing something wrong. You should review your money-making strategies and see how you could improve them. Things might not work out at first, but remember every cloud has a silver lining.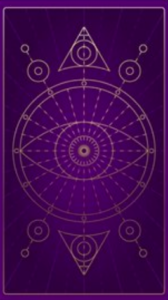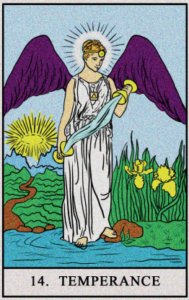 Temperance Tarot card consists of an unidentifiable angel whose gender, whose one foot is dipped in water and the other foot in one dry land, which signals towards the gender balance and materialistic world. There are two cups in Angel's hand with flowing water representing the union and flow of our world. Altogether Temperance Tarot card symbolizes the balance.
Temperance Card Upright Meaning:
Temperance in the upright position signifies inner peace, calmness, relationships, and patience. This card emphasis finding inner peace to improve your life and relationships within the world.
Temperance Card Upright Meaning in Love :
Temperance in an upright position is the most loved card by the couples as it signifies the perfect balance of love in the relationship. If you're in a relationship, this is an indicator that this relationship will last, and no misunderstanding or problems can harm it. But if you're single, this indicates that you need to learn to balance life so your soul mate can enter it. After doing that, the world automatically pushes the right partner towards you.
Temperance Card Upright Meaning in Career:
Temperance in an upright manager indicates that patience will help you succeed in your career or any other goals related to it. If you're going through a rough phase, it indicates to remain calm and work patiently.
Temperance Card Upright Meaning in Money:
You need to find a balance in your spending to make your money. If you're spending most of your resources, this card indicates that you should start saving and spending slowly.
Temperance Card Reversed Meaning:
Temperance reversed card indicates the opposite of balance that means that you're behaving recklessly and you need to handle it, or it may lead to damages in your life.
Temperance Card Reversed meaning in Love :
Suppose you're having regular clashes with your couple in a relationship. In that case, this card indicates that it's happening due to the imbalances like one is being more carrying, loving and another partner have started taking it for granted. So, both need to resolve it by balancing the relationship.
Temperance Card Reversed Meaning in Career:
Either you're working unnecessarily hard or not hard enough at your job or career, resulting in delayed results. This card indicates that for a successful career, you should start finding the right balance. It might include a good relationship with your co-worker and boss.
Temperance Card Reversed Meaning in Money:
You need to slow down your spending and start making a wise investment. But those investments shouldn't be made impulsively.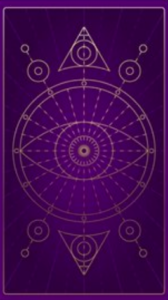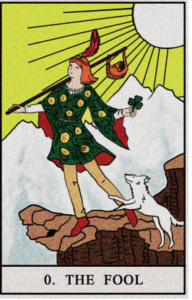 The Fool Card meaning in Love
If you are single and looking for a girlfriend this card indicates that you never have a hard time to find someone to get in a romantic relationship. Your future girlfriend is going to be a fun person to hang out with although she might not be ready yet for a long term relationship.
If you are already taken, the card can be an indication of something exciting between you and your partner and accomplishment of something together. This can be marriage, engagement , experiencing something new, travelling to new destinations and etc.. If you want to find out more about how your potential partner feels about you, the fool card indicates that your partner enjoys spending time with you however she / he is not ready to settle down with anyone yet.
Upright fool card is a clear indication of an unexpected new adventure that may require you to be courageous to take some risks. If you do, you will be well rewarded. This card can also mean travelling to new destinations and experiencing new cultures.
The Fool Card Meaning in Career
The fool card indicates your dedication and love for your job or business . Try to focus on core important elements of your work rather than focusing creative and fun stuff. The Fool is a great card to receive when you're just beginning a new job or business venture, the only drawback being that you can be so enthusiastic about your work that you stop acting like a professional. Success is around the corner if you let go of your fears and devote yourself to your career .
The fool card meaning in Money
Sign of opportunities and advancement in your career. It's a clear indication that you will be rewarded very soon. It can also be the sign of a new business project or a promotion
The fool card meaning in health
If you are healthy , you can expect to stay that way. If you are sick , you will get better soon!
The fool card reversed meaning
It's an indication of ignorant negligent behavior. You should stop disregarding the effects of your actions on other people around you.
The fool card reversed meaning in Love :
If you are in a relationship, one of you is not very serious. One of you loves being free and independent and this will sour your relationship. The card suggests that you don't have a future together as a couple.
The fool reversed meaning in career:
Definitely not a good time to invest in something or to start new projects. The reversed fool card is actually a warning for you. Things may seem too good to be true and you should be very careful when taking decisions.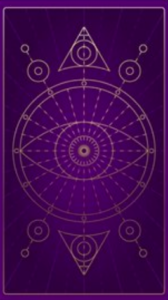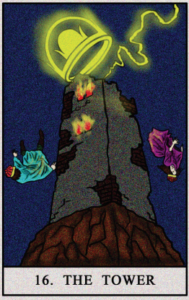 The Tower Tarot card or the most terrifying card in the deck generally indicates chaos and survival. The flaming tower image with the devil shows the destruction which needs to be done in order to move forward.
The Tower card in upright position indicates abuse, violence, natural disaster, loss, tragedies. In short, all the things you should be afraid of. If this card shows that means big changes are on their way to your life. So, you can use these indicators to prepare yourself for dealing with them.
The Tower Card Upright Meaning in Love :
Your relationship might take some wrong turns in the coming days. The Tower in an upright manner indicates a separation, breakup, or even a divorce. So, if your relationship is going through a rough time you need to prepare yourself to survive the upcoming destruction. But it can also mean the destruction might eliminate the reason that is damaging your relationship and you both will come close after a hard time.
The Tower Card Upright Meaning in Career:
You need to prepare yourself for a laying over or big changes in your career. That means that you'll have to handle stress at a workplace or business which might frustrate you.
The Tower Card Upright Meaning in Money :
It's an indication to prepare your finances and savings for your sudden losses so you can rely on them and pass that time.
The Tower Card Reversed Meaning:
Tower card in reversed position shows resistance or avoidance of things. So, this card tells that you need to stop resistance and face the hardships to start the new beginning.
The Tower Card Reversed meaning in Love:
If you're in a relationship and experiencing distantness, pain, and not doing anything about it. This card indicates that towards making adjustments to your relationship and let your partner know how you feel or leave the weak relationship.
The Tower Card Reversed Meaning in Career:
You may be feeling secured about your current job and career but you need to stay prepared for the worst. This card indicates that your career might take some unexpected turns which can put you in a vulnerable position. So, if you're thinking you're past the layoffs, that's not true.
The Tower Card Reversed Meaning in Money:
The Tower Tarot Card reversed signifies the acceptance and declaration of financial defeat. Most of the time we try so hard for survival but in reality, we don't make any progress and get the delayed defeat. So, this card suggests that you need to accept it to find peace. For example; you're just invested in a property you can't afford so you should sell it.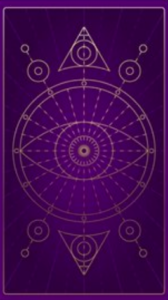 The High Priestess card constitutes the inherent qualities of inner wisdom. This means that all of us possess wisdom which is derived from mistakes and learning experiences. This tarot card also emphasizes the role of gut feelings and instincts when it comes to dealing with day-to-day situations.
The high priestess card meaning in love:
It's natural for men to be attracted to women. However, an attractive woman may not be easily attainable for men. It will be difficult for a man to express his feelings to the woman he desires.
The high priestess card meaning in career:
The job that you've always dreamt of is slowly coming your way. In other words, you will soon be equipped with the knowledge that will lead you towards a successful career. Your creativity will also play a huge role when you start climbing the ladder of success.
The high priestess card meaning in money :
When you start earning a steady income, you should avoid disclosing it to friends and family. At times, people can often use such confidential information against you just for personal gain.
The high priestess card meaning in health :
Taking time out for the things you like to do is important. Sometimes you might feel like going for a walk, and at other times, you might feel like eating something scrumptious. Listen to what your mind requires and fulfill those needs as soon as possible.
The high priestess card reversed meaning in love:
It's quite possible that you have an attractive personality that someone admires. But you don't know if you should let this person into your life or not. You might start questioning their intentions which could lead to second thoughts.
The high priestess card reversed meaning in career:
A 9-5 job is not easy. It can make you feel as if you've drifted away from reality. You start to feel isolated and alone, which makes you unproductive and lazy.
The high priestess card reversed meaning in money:
Always think about your financial position before you borrow money from someone. Unless you're certain that you'll be able to repay the lending party, you should try to find another way to build up finance.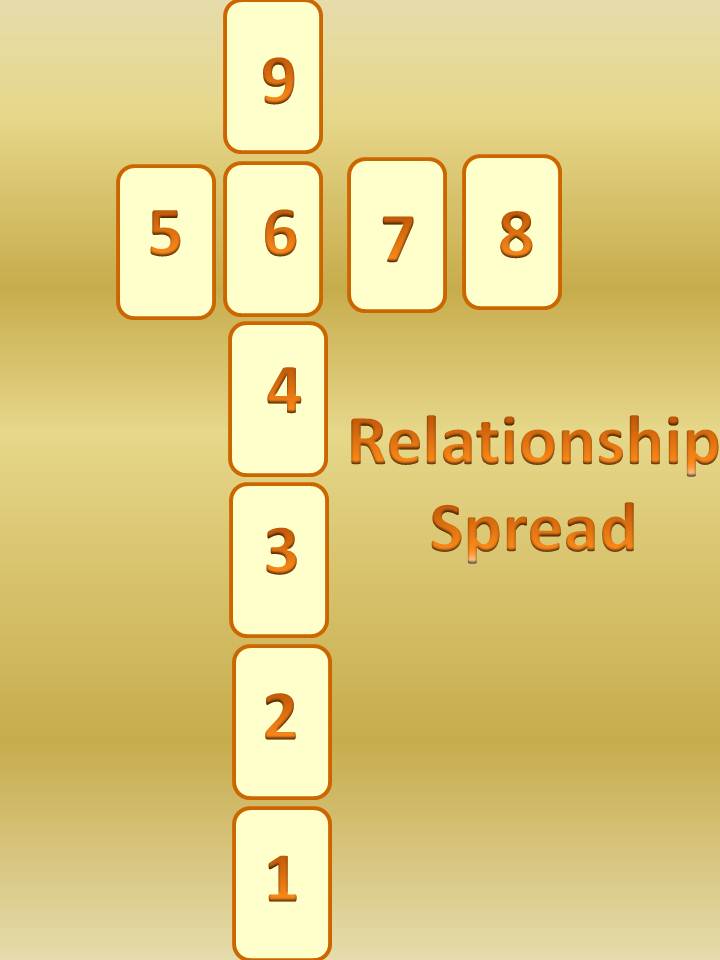 The reading of tarot cards is an excellent way to get an insight into your love life, and let most people face it! Any person can have a tarot card reading, and the connection between the tarot and its existence is always unintentionally correct. A third party observation of your specific situation is possible by reading the tarot card. You may not be in any relationship and want to know what will happen in the future with the tarot. You can also receive guidance on particular behavioural patterns or situations that hinder a possible relationship.
For people in a relationship, there is a big spread, consisting of seven cards that examine the relationship in action. This can offer you insight into various aspects of the relationship in different positions.
The first card refers to the energies, and you can notice that your partnership is equilibrated, or that any change is required for equilibrium to be found. The second card is the way in which you communicate, and you may decide that you need to communicate more openly and honestly.
The third card tests the strength of the partnership and describes the areas through which the partnership can be improved. The fourth card explores places of vulnerability, such as strength, connectivity, external factors. The fifth card offers you a practical description of the performance prospects and looks at the relationship's circumstances. The sixth card explores the excitement of the partnership and will teach you all about the chemistry. The final card lets you exactly what to expect and what to do to ensure the progress of the future.
When you have a tarot card read you should remember that you can change 'free will' whatever you see in your reading. You have the chance to turn around if the reading of the tarot card reveals that a relationship does not work and there are a lot of weaknesses, and it appears like a failure. A psychic tarot card reading is really a glimpse of your situation and your future at this time. If you're willing and determined, you have the power of your will to change something you find in reading. Some things in your destiny are pre-determined, and you have to let it go to determine the result.