Click on the card twice to read the description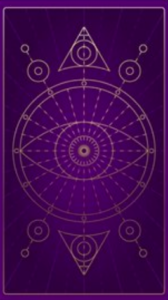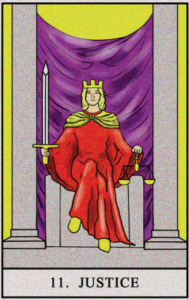 As the name suggests, the Justice Tarot card represents fair law and truthness. You can see that by looking at the figure of justice sitting in a chair holding a sword in the right and a scale on her left hand which purely shows justice.
Upright Justice Card Meaning:
The upright Justice card represents law, truthfulness, integrity, karma, cause, and equal consequence. That means whatever choices one makes have a similar and long-term impact on their lives and the lives of their surrounding people.
Upright Justice Card meaning in Love :
If you're someone who's putting continuous effort, you will receive the love and romance ultimately as the upright justice card represents karma. It doesn't matter you're single or in a relationship, the karma law is true for both. So, make sure you treat the person well whom you're in love with.
Upright Justice Card Meaning in Career:
If you're going through a tough time or getting affected by bad workplace politics or any type of dispute you don't need to lose hope as the justice card shows that the thing will be just fine very soon. All you need is to stay honest and fair with your work.
Upright Justice Card Meaning in Money:
The cause and effect apply here. If you're facing any financial trouble, you need to start putting more effort into your work or business, and soon that struggle will be ended. If things are going just fine, take this card as a reminder that you need to keep working with uttermost honesty.
Justice Card Reversed Meaning
The reversed Justice card represents injustice, dishonesty, and lack of accountability. This card will give signals towards taking the responsibility of actions to improve your life.
Justice Card Reversed meaning in Love:
Love is not a fair deal. It's not just about giving and taking. Sometimes you can love someone more and receive less in return or vice versa. So, if you're someone going through this situation should hold on to the relationship. Take full responsibility, and things will get better for both of you.
Justice Card Reversed Meaning in Career:
At times we face unfair situations in the workplace. This includes your boss treating you unjustly or putting his blame on you. This card shows that even if it feels like you can't take anymore and want to burst out of words, but you need to relax and handle this situation calmly without making it worse.
Justice Card Reversed Meaning in Money:
Reversed Justice card symbolizes that there might be dishonesty in your finances. It can be due to sharing your financial information with the wrong person or mishandling your finance.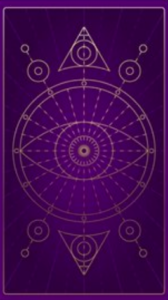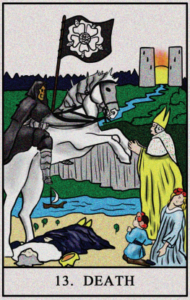 What does the Death Tarot Card Mean?
In the upright Death Tarot card, we can see a skeleton wearing body armor riding a beautiful white horse. The skeleton symbolizes survival, armor shows the power that death is unbeatable and the Beautiful White house denotes the purity of life. The overall representation of the death tarot card is not negative at all. It is often misunderstood, and that's the reason people usually fear this card. However, it indicates the transformation of life.
The Death Card meaning in Love
The Upright Death Card expresses the ongoing relationship complications. It indicates that things among the partners are not going well. If one wants to continue or improve their relationship, he/she needs to put some effort into changing and lifting things up. Sometimes, this card also indicates the end of the relationship. It's the transformation from one love life to another one.
The Death Card Meaning in Career
If you're not satisfied with your career and things are not in the right direction, upright Death Cards indicate the career change. That means you need to put an end to the frustration and should stop following that career. The current career might be offering you stability and safe financial outcomes, but it's eating you from the inside, and you must change it. When you close this door, the next door will be opened for you, which will offer you more comfort.
The Death Card Meaning in Money
Suppose you're struggling with the money or bearing a loss in your business or any other financial resources. In that case, that is the signal of the transformation of your relationship with the money. This card indicates a learning lesson from this situation, which will help you in tackling your money problems.
The Death Card Meaning in Health
Taking about the heath, you must be panicking that this card may indicate physical death. It does but in rare cases. Instead, most of the time, this card is pointing towards unhealthy activities that could improve your health if left. These activities include alcohol consumption, bad food choices, etc.
The reversed death card meaning is also transformation but the only difference in the reverse card is that it indicates those changes that one has been avoiding and showing resistance about.
The Death Card Reversed meaning in Love:
Suppose your relationship has come to a stop where you're no longer helping each other. In that case, the reversed death card indicates that you can revive this relationship by putting in dynamic efforts.
The Death Card Reversed Meaning in Career:
You're not doing well in a job or business but still pushing hard to survive or hold on to that job. This resistance has been stopped, and you need to accept the change for a better career.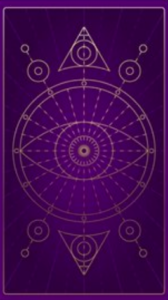 The upright version has an illustration of a creature having both man and goat-like features. Two individuals who appear to be humans are attached to the stool with chains on which the Devil is standing. The card indicates negativity, materialism, void, lust, and entrapment.
The Devil Card meaning in Love:
In a love reading Devil represents lust and desire. It indicates that someone is not ready for commitment, just wanting something temporary. It indicates addiction and dependency.
The Devil Card meaning in Career:
In terms of career, it indicates the feeling of stillness and enforcement. A person might feel that he is forced to work at the current job or pursue a certain career regardless of his own choice.
The Devil Card meaning in Money:
It shows that a person is having difficulty handling the finances, or they simply have poor management skills when it comes to money. They are spending way too much, and this keeps them stressed.
The Devil Card meaning in Health:
In terms of health, it means that a person is overindulging in some factors that can influence their overall health. It also indicates mental health problems.
The reversed version represents the moment of self-awareness where a person overcomes bad habits and addictive behaviour. It indicates that an individual can regain lost dignity.
The Devil Card reversed meaning in Love:
This represents the tendency to come out of a hurtful situation to know what you want from life in terms of love.
The Devil Card reversed meaning in Career:
In a career reading, the card emphasizes that you don't depend on your job to seek stability in your life anymore. It also means that a person is fully capable of flourishing in terms of career.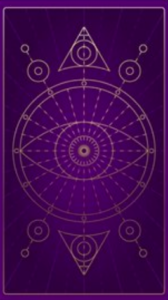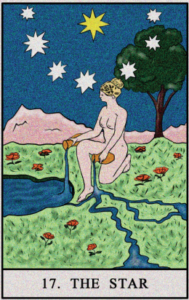 The star tarot card reflects a sense of optimism. This means that one can always expect things to work out even if situations seem dire. If you possess this Arcana card, you will feel more motivated and inspired to take on a challenge, no matter how difficult it may be.
The Star Card meaning in Love:
If you've previously been in a relationship that made you feel bad or upset, you shouldn't be bothered about it anymore. The star card suggests that someone better is awaiting you.
Whoever this person is, you'll be ready to meet them with a positive and happy mindset.
The Star Card meaning in Career:
Searching for the perfect career path is something that you should not stress over. Many opportunities will be coming your way, and some of them will come in the most unexpected of ways. So be patient and optimistic as greatness is destined for you.
.
The Star Card meaning in Money:
If you're in a tight spot financially, you should be spending your money in a well-thought-out manner. To be more specific, you should be investing rather than simply spending. Therefore, look for profitable opportunities you could invest your money in. For all you know, you might just hit the jackpot.
The Star card meaning in Health:
If you constantly feel sick or ill, don't worry. All your ailments will soon fade away. The star card indicates that good health will come your way, and you'll be feeling better in no time.
The reverse aspect of love suggests that you no longer feel the same energy in your relationship as before. In other words, you're no longer confident about the relationship, which makes you want to give up on it.
The Star Card reversed meaning in Career:
Carrying out your everyday routine might have gotten boring for you. You might find the monotonous tasks of your job to be discouraging or unrewarding.
The Star Card reversed meaning in Money:
If you haven't been able to grow financially, there might be a possibility that you're doing something wrong. You should review your money-making strategies and see how you could improve them. Things might not work out at first, but remember every cloud has a silver lining.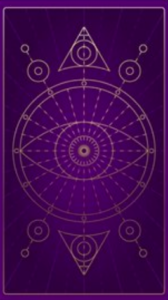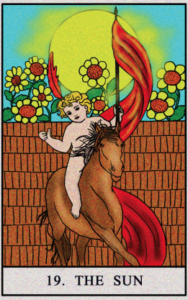 The Sun Tarot card generally represents positivity, optimism and feelings of fulfilment. When the card is in the upright position, it signals that joy and happiness are coming to you. It also represents success and confidence. So, continue whatever you're doing, and you'll be getting the joy of success soon.
The Upright Sun Card meaning in Love :
An upright sun card represents the successful relationship and signals towards making your relationship better by putting more efforts to get close to each other. If you're single, this card shows that it's the perfect time to start a relationship.
The Upright Sun Card Meaning in Career:
If you're switching to a new job or investing in any new business, it signifies that you stay optimistic as you'll be getting success and happiness.
The Upright Sun Card Meaning in Money:
If you're financially stables and things have been working out of your latest, then you'll be soon revealing some hidden factor for that you should keep some money at the side.
The Upright Sun Card Meaning in Health:
If you're perfectly healthy, the sun card represents you should be grateful and stay away from the unhealthy activities. In case one is going through health problems, that problems would leave you soon.
The Sun Card Reversed Meaning
The Sun card reversed represents a lack of enthusiasm, sadness, depression, pessimism, and unrealistic expectations. But this card doesn't necessarily mean that you're in a bad situation, but it indicates your feelings and your focus on negativity. In short, you're losing the sight and being unrealistic, which you must tackle.
The Sun Card Reversed meaning in Love
The sun shines bright even after getting blocked by the clouds temporarily. So, if you're in a relationship with someone, you might be facing some issues with your partner or not feeling the love and happiness, but the reversed sun signals that thing will be sorted out soon, and you'll be happy once again. If you're single, this card represents a relationship is in your way, and you should accept it.
The Sun Card Reversed Meaning in Career
Being human, we are sometimes played by our thoughts, which results in missing and ignoring the things in front of us. A reversed sun card suggests that you may feel exhausted at your workplace due to certain circumstances like a promotion you deserve. Besides getting depressed over it or walking out of the situation, you should bring this matter to your boss and request your promotion.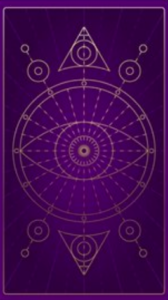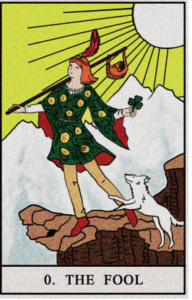 The Fool Card meaning in Love
If you are single and looking for a girlfriend this card indicates that you never have a hard time to find someone to get in a romantic relationship. Your future girlfriend is going to be a fun person to hang out with although she might not be ready yet for a long term relationship.
If you are already taken, the card can be an indication of something exciting between you and your partner and accomplishment of something together. This can be marriage, engagement , experiencing something new, travelling to new destinations and etc.. If you want to find out more about how your potential partner feels about you, the fool card indicates that your partner enjoys spending time with you however she / he is not ready to settle down with anyone yet.
Upright fool card is a clear indication of an unexpected new adventure that may require you to be courageous to take some risks. If you do, you will be well rewarded. This card can also mean travelling to new destinations and experiencing new cultures.
The Fool Card Meaning in Career
The fool card indicates your dedication and love for your job or business . Try to focus on core important elements of your work rather than focusing creative and fun stuff. The Fool is a great card to receive when you're just beginning a new job or business venture, the only drawback being that you can be so enthusiastic about your work that you stop acting like a professional. Success is around the corner if you let go of your fears and devote yourself to your career .
The fool card meaning in Money
Sign of opportunities and advancement in your career. It's a clear indication that you will be rewarded very soon. It can also be the sign of a new business project or a promotion
The fool card meaning in health
If you are healthy , you can expect to stay that way. If you are sick , you will get better soon!
The fool card reversed meaning
It's an indication of ignorant negligent behavior. You should stop disregarding the effects of your actions on other people around you.
The fool card reversed meaning in Love :
If you are in a relationship, one of you is not very serious. One of you loves being free and independent and this will sour your relationship. The card suggests that you don't have a future together as a couple.
The fool reversed meaning in career:
Definitely not a good time to invest in something or to start new projects. The reversed fool card is actually a warning for you. Things may seem too good to be true and you should be very careful when taking decisions.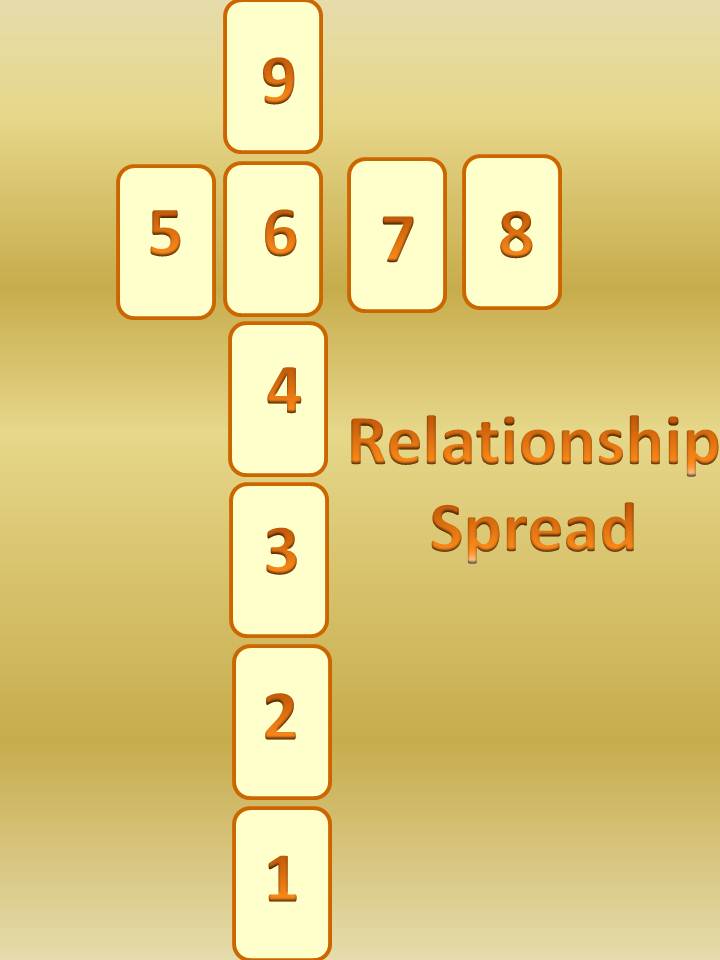 The reading of tarot cards is an excellent way to get an insight into your love life, and let most people face it! Any person can have a tarot card reading, and the connection between the tarot and its existence is always unintentionally correct. A third party observation of your specific situation is possible by reading the tarot card. You may not be in any relationship and want to know what will happen in the future with the tarot. You can also receive guidance on particular behavioural patterns or situations that hinder a possible relationship.
For people in a relationship, there is a big spread, consisting of seven cards that examine the relationship in action. This can offer you insight into various aspects of the relationship in different positions.
The first card refers to the energies, and you can notice that your partnership is equilibrated, or that any change is required for equilibrium to be found. The second card is the way in which you communicate, and you may decide that you need to communicate more openly and honestly.
The third card tests the strength of the partnership and describes the areas through which the partnership can be improved. The fourth card explores places of vulnerability, such as strength, connectivity, external factors. The fifth card offers you a practical description of the performance prospects and looks at the relationship's circumstances. The sixth card explores the excitement of the partnership and will teach you all about the chemistry. The final card lets you exactly what to expect and what to do to ensure the progress of the future.
When you have a tarot card read you should remember that you can change 'free will' whatever you see in your reading. You have the chance to turn around if the reading of the tarot card reveals that a relationship does not work and there are a lot of weaknesses, and it appears like a failure. A psychic tarot card reading is really a glimpse of your situation and your future at this time. If you're willing and determined, you have the power of your will to change something you find in reading. Some things in your destiny are pre-determined, and you have to let it go to determine the result.