Tarot Cards Indicating Love Triangle: Understanding Complex Emotions
Last Updated on
We sometimes find ourselves on unexpected paths when we are in love. When it comes to matters of the heart, being in a love triangle can be particularly challenging. In this blog post, we will discuss the tarot cards indicating love triangles and how they can offer insights into love triangle dynamics and guidance on navigating the complexities of emotions.
Definition of the Love Triangle
Understanding the concept of a love triangle is crucial before diving into the tarot cards. Love triangles occur when three individuals are romantically involved, leading to conflicting emotions and tensions.
Tarot Cards Indicating Love Triangle
Three of Cups is often regarded as the card that represents a love triangle. As a symbol, this card signifies celebration, connection, and community. Associated with a love triangle, it implies shared emotions or romantic entanglements among three individuals.
There is a specific tarot spread for reading love triangles, and it can shed light on the existence of a relationship triangle. Cards are typically drawn to represent each person's emotions and the circumstances surrounding them. Each of the three characters in the love triangle should be assigned a card in the tarot spread. You will gain insight into their feelings, intentions, and roles in the situation by analyzing these cards. A love triangle can be characterized by conflicts and tensions based on certain tarot cards. It is possible for cards such as the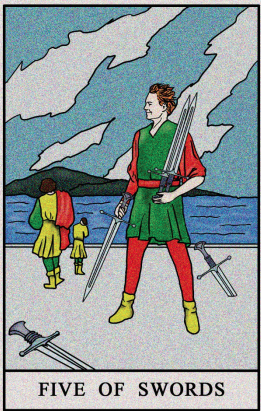 Five of Swords to indicate power struggles and competition between parties.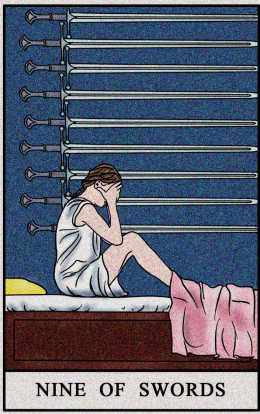 Nine of Swords may represent anxiety and worry
The Seven of Swords may indicate deception.
The importance of seeking clarity is essential for individuals involved during emotional turmoil. Open communication and introspection are helpful for understanding their feelings and needs. In addition to highlighting external influences, Tarot cards also encourage self-reflection. Considering your own values and needs is the key to making informed decisions in a love triangle.
Tarot readings provide insight into the dynamics of a love triangle, as well as guidance on potential paths forward. A resolution, a compromise, or the necessity to let go may be implied by these cards. The importance of clear and honest communication among all parties in a love triangle cannot be overstated. Everyone should be encouraged to express their feelings openly.
In this article, we examined love triangles through the eyes of tarot cards. Symbolizing celebration and connection, the Three of Cups indicates the existence of the love triangle. Additionally, other cards like the Five of Swords, Seven of Swords, and Nine of Swords can indicate conflict and tension.
When individuals are navigating a love triangle, tarot cards can be used as a tool for self-reflection and empowerment. Communicating openly, being empathic, and becoming aware of one's own capabilities will all contribute to a harmonious resolution. In the end, tarot readings provide valuable guidance, but until we know ourselves and others, we cannot grow and find our path to love and happiness.