6 cards True Love Tarot Spread
#1 – The first card represents you and your current state, feelings about your relationship.
#2 – The second card represents your partner, his feelings and emotions towards you as well as his expectations.
#3 – The third card represents common points between you and your partner What do you have in common and how do they bind you together?
#4 – The fourth card represents the strength of your current relationship with your partner.
#5 – The fifth card shows the weaknesses in your relationship. It may contain useful information to improve your relationship.
#6 – This final card is your love card.
Click on the card twice to read the description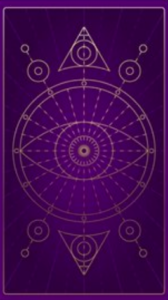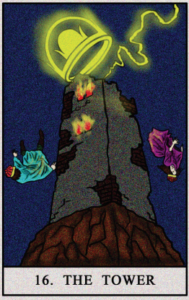 The Tower Tarot card or the most terrifying card in the deck generally indicates chaos and survival. The flaming tower image with the devil shows the destruction which needs to be done in order to move forward.
The Tower card in upright position indicates abuse, violence, natural disaster, loss, tragedies. In short, all the things you should be afraid of. If this card shows that means big changes are on their way to your life. So, you can use these indicators to prepare yourself for dealing with them.
The Tower Card Upright Meaning in Love :
Your relationship might take some wrong turns in the coming days. The Tower in an upright manner indicates a separation, breakup, or even a divorce. So, if your relationship is going through a rough time you need to prepare yourself to survive the upcoming destruction. But it can also mean the destruction might eliminate the reason that is damaging your relationship and you both will come close after a hard time.
The Tower Card Upright Meaning in Career:
You need to prepare yourself for a laying over or big changes in your career. That means that you'll have to handle stress at a workplace or business which might frustrate you.
The Tower Card Upright Meaning in Money :
It's an indication to prepare your finances and savings for your sudden losses so you can rely on them and pass that time.
The Tower Card Reversed Meaning:
Tower card in reversed position shows resistance or avoidance of things. So, this card tells that you need to stop resistance and face the hardships to start the new beginning.
The Tower Card Reversed meaning in Love:
If you're in a relationship and experiencing distantness, pain, and not doing anything about it. This card indicates that towards making adjustments to your relationship and let your partner know how you feel or leave the weak relationship.
The Tower Card Reversed Meaning in Career:
You may be feeling secured about your current job and career but you need to stay prepared for the worst. This card indicates that your career might take some unexpected turns which can put you in a vulnerable position. So, if you're thinking you're past the layoffs, that's not true.
The Tower Card Reversed Meaning in Money:
The Tower Tarot Card reversed signifies the acceptance and declaration of financial defeat. Most of the time we try so hard for survival but in reality, we don't make any progress and get the delayed defeat. So, this card suggests that you need to accept it to find peace. For example; you're just invested in a property you can't afford so you should sell it.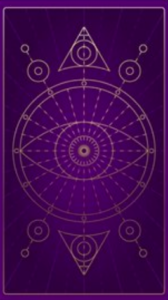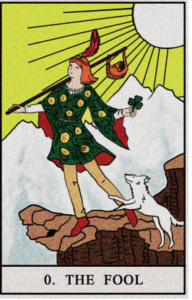 The Fool Card meaning in Love
If you are single and looking for a girlfriend this card indicates that you never have a hard time to find someone to get in a romantic relationship. Your future girlfriend is going to be a fun person to hang out with although she might not be ready yet for a long term relationship.
If you are already taken, the card can be an indication of something exciting between you and your partner and accomplishment of something together. This can be marriage, engagement , experiencing something new, travelling to new destinations and etc.. If you want to find out more about how your potential partner feels about you, the fool card indicates that your partner enjoys spending time with you however she / he is not ready to settle down with anyone yet.
Upright fool card is a clear indication of an unexpected new adventure that may require you to be courageous to take some risks. If you do, you will be well rewarded. This card can also mean travelling to new destinations and experiencing new cultures.
The Fool Card Meaning in Career
The fool card indicates your dedication and love for your job or business . Try to focus on core important elements of your work rather than focusing creative and fun stuff. The Fool is a great card to receive when you're just beginning a new job or business venture, the only drawback being that you can be so enthusiastic about your work that you stop acting like a professional. Success is around the corner if you let go of your fears and devote yourself to your career .
The fool card meaning in Money
Sign of opportunities and advancement in your career. It's a clear indication that you will be rewarded very soon. It can also be the sign of a new business project or a promotion
The fool card meaning in health
If you are healthy , you can expect to stay that way. If you are sick , you will get better soon!
The fool card reversed meaning
It's an indication of ignorant negligent behavior. You should stop disregarding the effects of your actions on other people around you.
The fool card reversed meaning in Love :
If you are in a relationship, one of you is not very serious. One of you loves being free and independent and this will sour your relationship. The card suggests that you don't have a future together as a couple.
The fool reversed meaning in career:
Definitely not a good time to invest in something or to start new projects. The reversed fool card is actually a warning for you. Things may seem too good to be true and you should be very careful when taking decisions.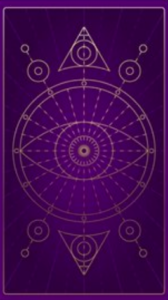 If the moon appears as one of the last cards in your reading, it indicates that your soul's journey is coming to an end. rd, You should isolate yourself from distractions and turn into your inner world for a long journey of discovery. You may have many unanswered questions in mind about love, career or health, and the answers you are looking for are inside you. To find answers, You just need to focus on your inner world and isolate yourself from outside distractions. The moon card may also be telling you not to let your fears interrupt your love & life goals.
Love:
The moon card is a strong indication of new decisions, new paths, or a desire for change. If your partner is not willing to change you could decide separating. If you are not in a relationship but have strong interest in somebody, watch out. Your interest may have a secret agenda.
The reversed moon card can be an indication of the imbalance in your life. It may also be a suggestion for you to seek assistance from a professional or a loved one around you.
Career:
You may be experiencing some difficulties with your coworkers at your workplace, try to communicate with them. Clarifying things may be difficult sometimes but it is essential to find the balance in your career. If you are currently unemployed, do not feel lost. Always try to explore new opportunities. You will eventually find something that fits you.
Health:
This may be an indication of an unhealthy mental state . Speaking to a health professional or a loved one can turn things around.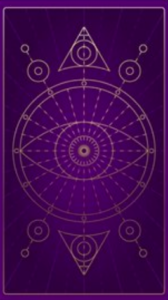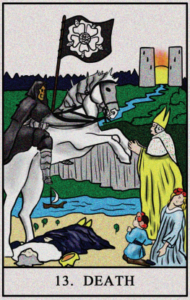 What does the Death Tarot Card Mean?
In the upright Death Tarot card, we can see a skeleton wearing body armor riding a beautiful white horse. The skeleton symbolizes survival, armor shows the power that death is unbeatable and the Beautiful White house denotes the purity of life. The overall representation of the death tarot card is not negative at all. It is often misunderstood, and that's the reason people usually fear this card. However, it indicates the transformation of life.
The Death Card meaning in Love
The Upright Death Card expresses the ongoing relationship complications. It indicates that things among the partners are not going well. If one wants to continue or improve their relationship, he/she needs to put some effort into changing and lifting things up. Sometimes, this card also indicates the end of the relationship. It's the transformation from one love life to another one.
The Death Card Meaning in Career
If you're not satisfied with your career and things are not in the right direction, upright Death Cards indicate the career change. That means you need to put an end to the frustration and should stop following that career. The current career might be offering you stability and safe financial outcomes, but it's eating you from the inside, and you must change it. When you close this door, the next door will be opened for you, which will offer you more comfort.
The Death Card Meaning in Money
Suppose you're struggling with the money or bearing a loss in your business or any other financial resources. In that case, that is the signal of the transformation of your relationship with the money. This card indicates a learning lesson from this situation, which will help you in tackling your money problems.
The Death Card Meaning in Health
Taking about the heath, you must be panicking that this card may indicate physical death. It does but in rare cases. Instead, most of the time, this card is pointing towards unhealthy activities that could improve your health if left. These activities include alcohol consumption, bad food choices, etc.
The reversed death card meaning is also transformation but the only difference in the reverse card is that it indicates those changes that one has been avoiding and showing resistance about.
The Death Card Reversed meaning in Love:
Suppose your relationship has come to a stop where you're no longer helping each other. In that case, the reversed death card indicates that you can revive this relationship by putting in dynamic efforts.
The Death Card Reversed Meaning in Career:
You're not doing well in a job or business but still pushing hard to survive or hold on to that job. This resistance has been stopped, and you need to accept the change for a better career.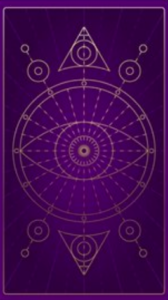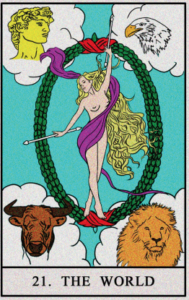 The World card is one of the Travelcards in Major Arcana, which consist of a dancing woman with crossed legs and holding wands in both hands. This represents worldly balance and control. The World Card Upright Meaning
Upright World card represents achievement, wholeness, and a sense of belonging and control. It signifies that the World is in your control. So, all the efforts you put in will result in success. The whole World is welcoming you for success and achievement.
The World Card Upright Meaning in Love :
If you're in a relationship with someone, this card is a signal for you to bring your relationship to the next stage, like engagement or marriage. If you're single, this signifies open options for you in the near future. Now you should look forward to being in a relationship with someone you and your soul is attracted to.
The World Card Upright Meaning in Career:
Upright World card represents goal completion and a sense of fulfilment in a career. If you own a business, doing any job or even finding a new one. This card signifies to be proud of it and celebrate what you've already earned. Enjoy the present moment.
The World Card Upright Meaning in Money :
If you've been holding yourself back from making any investment due to the risks. It's time to do that. This card suggests taking and gamble your money (not in the casino) but in the form of investments, and you'll land on unexpected success.
The World Card reversed represents the lack of achievement, success and disappointment. Sometimes we feel empty like something is missing. The reversed card signifies these stuck situations and problems. Also, it helps you focus in the right direction.
The World Card Reversed meaning in Love:
Have your relationship lost all its charm? Things do not feel like they used to feel? The World card reversed indicates that you and your partners have lost their focus and let things go sideways. Even it might not feel true to you because you may be trying hard to improve your relationship, but are you sure that you're fixing the main problem? So, better trying new things, be honest with your partners and communicate!
The World Card Reversed Meaning in Career:
Often, we feel empty or unaccomplished even after getting what we always wished for. It can be a job or career as well, so if you are feeling the same. This card indicates that your focus might be in the wrong directions, or you've set your success bar too low that it doesn't feel any accomplishment to you.
The World Card Reversed Meaning in Money:
You might be feeling comfortable, unsettle besides being in a financially stable position. Word card reversed suggest keep going and don't fall for some stupid money scheme or investment. Your consistency will get you what you wish to achieve.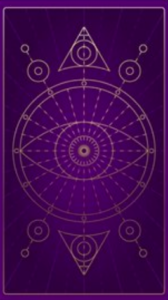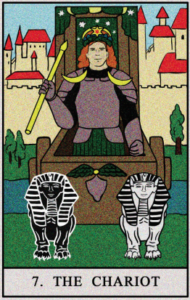 The Chariot Tarot card contains the two sphinxes that are driving a person sitting in a vehicle. One is black, and another one is white. This card generally represents the influence, ambition, willpower, control, focus, and hard work.
The Chariot Card Upright Meaning
The Chariot card in the upright position signifies success and willpower. It suggests that besides the regular obstacles of life, you need to stay focused in order to be successful. With that, it also signals for traveling. If you're a sportsperson, it is a signal for winning your next match.
The Chariot Card Upright Meaning in Love
If your relationship is going through a rough phase, this card suggests you and your partner should come together and conquer the emotions to make your relationship work. If you're a single person, the card indicates that you need to move ahead in life, leaving the past bad experiences behind.
The Chariot Card Upright Meaning in Career
Stay ambitioned even though you feel stuck in your career or business. This card indicates that you should clear your mind and stay focused at work which would ultimately help you to reach your destination. It also suggests staying away from any kind of workplace politics and fights.
The Chariot Card Upright Meaning in Money
If you're facing money obstacles, but don't worry more as they are about to leave. All you need is to stay focused and deal with them calmly. Don't lose your self-discipline in the process. And if you're not having a money problem. This card signifies making better investment choices now for a safe future.
The Chariot Card Reversed Meaning
The Chariot card in reverse position signifies the lack of direction, powerlessness, aggression, and obstacles. If you're losing focus or feeling stuck, this card will help signals making the right decisions.
The Chariot Card Reversed meaning in Love.
Just lost a relationship or failing to make your relationship work? The Chariot card in reverse position indicates that you should stop feeling overwhelmed as you cannot control everything in life. Stay patient and let things settle themselves if you're single or desperately finding someone for a relationship, this card signals to stay patient and let love find you.
The Chariot Card Reversed Meaning in Career
Are you trying to beat the odds and working much aggressively? This card suggests to stop that and take one step at a time, or you'll face failure in your career or business.
The Chariot Card Reversed Meaning in Money
Thinking of investing some money to get quick gains, you need to slow down a bit. As this card suggests, these fast investments could cause financial losses. So, consider doing research and make the wise investments.
Websites we recommend for accurate true love tarot card reading
Whoever even considers love tarot reading is engulfed by whether or not it works. And it's no wonder that in the world there are enough fake psychics and tarot readers to skepticism about the effectiveness of paranormal things. The fact is, however, that there are enough real psychics, and many people can read the tarot pretty well and answer your questions accurately. Do not worry if you're living in a relationship but feel like you lost love, because these readings of love can also contribute to strengthening your relationship. A psychic reading will usually provide you with more insight into yourself and your lives. You'll understand yourself and your partner better when you discover these things.
You should bear in mind that you can only make your destiny when you go for a read. Some insights you receive through these readings of devotion, only when you do something about it, can come to reality. How will you ever find your soulmate, when you're looking for love, but never leave the house? That's why you will take steps to find true love and do your part. It is certainly possible to find your companion in a love tarot reading, but it is only through authentic psychic readers who must ensure you obtain this service.
Before shuffling just focus on your question Click on the card twice to read the description

---