6 cards True Love Tarot Spread
#1 – The first card represents you and your current state, feelings about your relationship.
#2 – The second card represents your partner, his feelings and emotions towards you as well as his expectations.
#3 – The third card represents common points between you and your partner What do you have in common and how do they bind you together?
#4 – The fourth card represents the strength of your current relationship with your partner.
#5 – The fifth card shows the weaknesses in your relationship. It may contain useful information to improve your relationship.
#6 – This final card is your love card.
Click on the card twice to read the description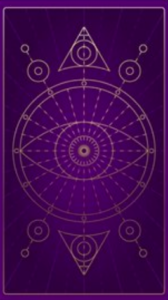 The emperor tarot card is known to have a fatherly figure over the other tarot cards. In simple terms, this card represents acts of a disciple, hard work, ambition, and integrity. Moreover, the emperor card reflects a character who you would look towards for counseling.
The Emperor card meaning in Love:
In the context of love, the emperor tarot card represents a relationship with older men (considering that the person who wants to engage in the relationship is single and interested in men).
The Emperor card meaning in Career:
According to the emperor tarot card, the hard work and effort that you put into your career will reap your sweet fruits. You just need to stay focused and keep your eye on the prize.
The Emperor card meaning in money:
When it comes to finances, the emperor tarot card suggests that you should manage/spend your money responsibly. Trust your gut and spend where and when you deem appropriate.
The Emperor card meaning in Health:
Health-wise, the emperor card signs that you should take care of yourself and not over-exert your daily activities. Keep your routine light and try not to engage in activities that will drain you out.
A reversed emperor card is the exact opposite of what was discussed in the first paragraph. A reversed emperor card represents laziness, procrastination, misuse of power, and inappropriate behavior.
The Emperor card reversed meaning in Love:
An emperor card being reversed in love means that there is instability within the relationship. Moreover, there is a misuse of power which leads to an unhealthy and unhappy relationship.
The Emperor Card reversed meaning in Career:
The emperor card being reversed in the career context would mean that one is not putting in the work and effort to achieve desired goals. This is mainly due to procrastination and inconsistency.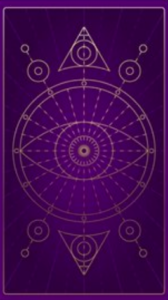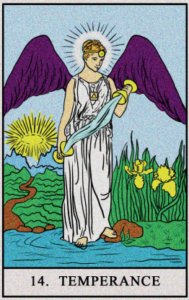 Temperance Tarot card consists of an unidentifiable angel whose gender, whose one foot is dipped in water and the other foot in one dry land, which signals towards the gender balance and materialistic world. There are two cups in Angel's hand with flowing water representing the union and flow of our world. Altogether Temperance Tarot card symbolizes the balance.
Temperance Card Upright Meaning:
Temperance in the upright position signifies inner peace, calmness, relationships, and patience. This card emphasis finding inner peace to improve your life and relationships within the world.
Temperance Card Upright Meaning in Love :
Temperance in an upright position is the most loved card by the couples as it signifies the perfect balance of love in the relationship. If you're in a relationship, this is an indicator that this relationship will last, and no misunderstanding or problems can harm it. But if you're single, this indicates that you need to learn to balance life so your soul mate can enter it. After doing that, the world automatically pushes the right partner towards you.
Temperance Card Upright Meaning in Career:
Temperance in an upright manager indicates that patience will help you succeed in your career or any other goals related to it. If you're going through a rough phase, it indicates to remain calm and work patiently.
Temperance Card Upright Meaning in Money:
You need to find a balance in your spending to make your money. If you're spending most of your resources, this card indicates that you should start saving and spending slowly.
Temperance Card Reversed Meaning:
Temperance reversed card indicates the opposite of balance that means that you're behaving recklessly and you need to handle it, or it may lead to damages in your life.
Temperance Card Reversed meaning in Love :
Suppose you're having regular clashes with your couple in a relationship. In that case, this card indicates that it's happening due to the imbalances like one is being more carrying, loving and another partner have started taking it for granted. So, both need to resolve it by balancing the relationship.
Temperance Card Reversed Meaning in Career:
Either you're working unnecessarily hard or not hard enough at your job or career, resulting in delayed results. This card indicates that for a successful career, you should start finding the right balance. It might include a good relationship with your co-worker and boss.
Temperance Card Reversed Meaning in Money:
You need to slow down your spending and start making a wise investment. But those investments shouldn't be made impulsively.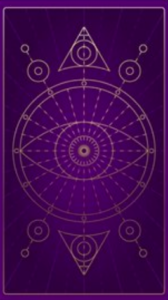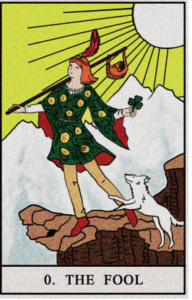 The Fool Card meaning in Love
If you are single and looking for a girlfriend this card indicates that you never have a hard time to find someone to get in a romantic relationship. Your future girlfriend is going to be a fun person to hang out with although she might not be ready yet for a long term relationship.
If you are already taken, the card can be an indication of something exciting between you and your partner and accomplishment of something together. This can be marriage, engagement , experiencing something new, travelling to new destinations and etc.. If you want to find out more about how your potential partner feels about you, the fool card indicates that your partner enjoys spending time with you however she / he is not ready to settle down with anyone yet.
Upright fool card is a clear indication of an unexpected new adventure that may require you to be courageous to take some risks. If you do, you will be well rewarded. This card can also mean travelling to new destinations and experiencing new cultures.
The Fool Card Meaning in Career
The fool card indicates your dedication and love for your job or business . Try to focus on core important elements of your work rather than focusing creative and fun stuff. The Fool is a great card to receive when you're just beginning a new job or business venture, the only drawback being that you can be so enthusiastic about your work that you stop acting like a professional. Success is around the corner if you let go of your fears and devote yourself to your career .
The fool card meaning in Money
Sign of opportunities and advancement in your career. It's a clear indication that you will be rewarded very soon. It can also be the sign of a new business project or a promotion
The fool card meaning in health
If you are healthy , you can expect to stay that way. If you are sick , you will get better soon!
The fool card reversed meaning
It's an indication of ignorant negligent behavior. You should stop disregarding the effects of your actions on other people around you.
The fool card reversed meaning in Love :
If you are in a relationship, one of you is not very serious. One of you loves being free and independent and this will sour your relationship. The card suggests that you don't have a future together as a couple.
The fool reversed meaning in career:
Definitely not a good time to invest in something or to start new projects. The reversed fool card is actually a warning for you. Things may seem too good to be true and you should be very careful when taking decisions.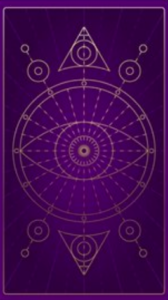 If the moon appears as one of the last cards in your reading, it indicates that your soul's journey is coming to an end. rd, You should isolate yourself from distractions and turn into your inner world for a long journey of discovery. You may have many unanswered questions in mind about love, career or health, and the answers you are looking for are inside you. To find answers, You just need to focus on your inner world and isolate yourself from outside distractions. The moon card may also be telling you not to let your fears interrupt your love & life goals.
Love:
The moon card is a strong indication of new decisions, new paths, or a desire for change. If your partner is not willing to change you could decide separating. If you are not in a relationship but have strong interest in somebody, watch out. Your interest may have a secret agenda.
The reversed moon card can be an indication of the imbalance in your life. It may also be a suggestion for you to seek assistance from a professional or a loved one around you.
Career:
You may be experiencing some difficulties with your coworkers at your workplace, try to communicate with them. Clarifying things may be difficult sometimes but it is essential to find the balance in your career. If you are currently unemployed, do not feel lost. Always try to explore new opportunities. You will eventually find something that fits you.
Health:
This may be an indication of an unhealthy mental state . Speaking to a health professional or a loved one can turn things around.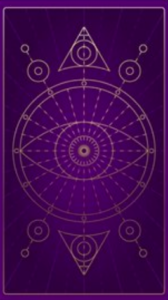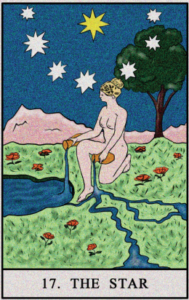 The star tarot card reflects a sense of optimism. This means that one can always expect things to work out even if situations seem dire. If you possess this Arcana card, you will feel more motivated and inspired to take on a challenge, no matter how difficult it may be.
The Star Card meaning in Love:
If you've previously been in a relationship that made you feel bad or upset, you shouldn't be bothered about it anymore. The star card suggests that someone better is awaiting you.
Whoever this person is, you'll be ready to meet them with a positive and happy mindset.
The Star Card meaning in Career:
Searching for the perfect career path is something that you should not stress over. Many opportunities will be coming your way, and some of them will come in the most unexpected of ways. So be patient and optimistic as greatness is destined for you.
.
The Star Card meaning in Money:
If you're in a tight spot financially, you should be spending your money in a well-thought-out manner. To be more specific, you should be investing rather than simply spending. Therefore, look for profitable opportunities you could invest your money in. For all you know, you might just hit the jackpot.
The Star card meaning in Health:
If you constantly feel sick or ill, don't worry. All your ailments will soon fade away. The star card indicates that good health will come your way, and you'll be feeling better in no time.
The reverse aspect of love suggests that you no longer feel the same energy in your relationship as before. In other words, you're no longer confident about the relationship, which makes you want to give up on it.
The Star Card reversed meaning in Career:
Carrying out your everyday routine might have gotten boring for you. You might find the monotonous tasks of your job to be discouraging or unrewarding.
The Star Card reversed meaning in Money:
If you haven't been able to grow financially, there might be a possibility that you're doing something wrong. You should review your money-making strategies and see how you could improve them. Things might not work out at first, but remember every cloud has a silver lining.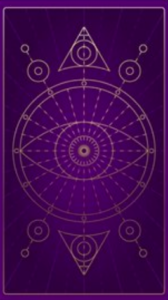 The Empress Tarot card consists of a throned mature woman surrounded by true nature. Her outlook represents the goddess and luxury. There is greenery everywhere in her surrounding. This Empress card overall represents nature and femininity.
Empress Card Upright Meaning
The Upright Empress card denotes creativity, abundance, and sensuality. It connects us with the nature and happiness of life. Also, helps the people to understand themselves better and bring happiness in their life.
Empress Card Upright Meaning in Love
In an upright manner, the Empathy card has a very positive indication for both people, singles, and couples. If you're in a relationship, it signifies that your partner is truly committed. Also, it indicates romance, sex, and pregnancy. So, if you're not ready, better start keeping the safety. For singles, it's a signal that they will be getting their right one pretty soon.
Empress Card Upright Meaning in Career
Having a nurturing environment at your workplace would help you in boosting the momentum. This card represents creativity and inspiration. If you're joining a new place, you'll get the company of very good co-workers.
Empress Card Upright Meaning in Money
If having a bad time dealing with Finances, this card signifies the upcoming good flow of money. So, if you're thinking about investing, go for it.
Empress card reversed has a negative indication. It points out insecurity, lack of growth, and negligence. One must embrace himself of their feminine qualities, be it, men or women, because we all have them inside us. Embracing them will help us to grow, and this card is the indicator of that.
Empress Card Reversed meaning in Love:
If you love your partner and not giving her enough attention due to any reason. This card indicates that he or she needs it to boost self-worth. You can try making little gestures like taking your partner on a dinner date or movie or try some romantic gift. For single, it's an indication of many potential people who will try to ask you out soon.
Empress Card Reversed Meaning in Career:
If you're in a career or business which is not of your interest. This card indicates you take the bold decision and stop following it. Instead, follow your true interest, which will make you successful without draining the energy out of you.
Empress Card Reversed Meaning in Money:
Sometimes we find ourselves feeling unstable even after having enough finances. The reason might be something not right inside you. This card suggests that you should not ignore this feeling and deal with your inner self, and start being confident about yourself. Make all the reasonable investment choices, don't help back!
Websites we recommend for accurate true love tarot card reading
Whoever even considers love tarot reading is engulfed by whether or not it works. And it's no wonder that in the world there are enough fake psychics and tarot readers to skepticism about the effectiveness of paranormal things. The fact is, however, that there are enough real psychics, and many people can read the tarot pretty well and answer your questions accurately. Do not worry if you're living in a relationship but feel like you lost love, because these readings of love can also contribute to strengthening your relationship. A psychic reading will usually provide you with more insight into yourself and your lives. You'll understand yourself and your partner better when you discover these things.
You should bear in mind that you can only make your destiny when you go for a read. Some insights you receive through these readings of devotion, only when you do something about it, can come to reality. How will you ever find your soulmate, when you're looking for love, but never leave the house? That's why you will take steps to find true love and do your part. It is certainly possible to find your companion in a love tarot reading, but it is only through authentic psychic readers who must ensure you obtain this service.