Before shuffling just focus on your question
Click on the card twice to read the description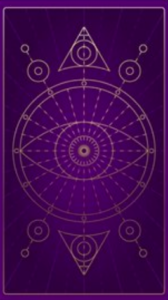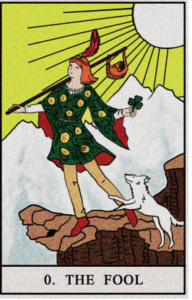 The Fool Card meaning in Love
If you are single and looking for a girlfriend this card indicates that you never have a hard time to find someone to get in a romantic relationship. Your future girlfriend is going to be a fun person to hang out with although she might not be ready yet for a long term relationship.
If you are already taken, the card can be an indication of something exciting between you and your partner and accomplishment of something together. This can be marriage, engagement , experiencing something new, travelling to new destinations and etc.. If you want to find out more about how your potential partner feels about you, the fool card indicates that your partner enjoys spending time with you however she / he is not ready to settle down with anyone yet.
Upright fool card is a clear indication of an unexpected new adventure that may require you to be courageous to take some risks. If you do, you will be well rewarded. This card can also mean travelling to new destinations and experiencing new cultures.
The Fool Card Meaning in Career
The fool card indicates your dedication and love for your job or business . Try to focus on core important elements of your work rather than focusing creative and fun stuff. The Fool is a great card to receive when you're just beginning a new job or business venture, the only drawback being that you can be so enthusiastic about your work that you stop acting like a professional. Success is around the corner if you let go of your fears and devote yourself to your career .
The fool card meaning in Money
Sign of opportunities and advancement in your career. It's a clear indication that you will be rewarded very soon. It can also be the sign of a new business project or a promotion
The fool card meaning in health
If you are healthy , you can expect to stay that way. If you are sick , you will get better soon!
The fool card reversed meaning
It's an indication of ignorant negligent behavior. You should stop disregarding the effects of your actions on other people around you.
The fool card reversed meaning in Love :
If you are in a relationship, one of you is not very serious. One of you loves being free and independent and this will sour your relationship. The card suggests that you don't have a future together as a couple.
The fool reversed meaning in career:
Definitely not a good time to invest in something or to start new projects. The reversed fool card is actually a warning for you. Things may seem too good to be true and you should be very careful when taking decisions.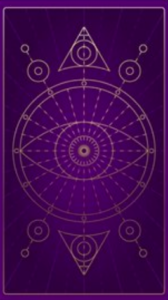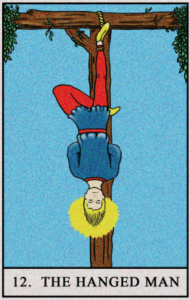 The Hanged Man Tarot card shows an upside-down man hanged by his leg to a tree. The hanging man represents free will. We can say that by observing that his left foot is free and his hands are behind his back while his facial expressions are serene. Generally, this card signals uncertainty, the situation of being trapped into something willingly, and a lackness of the right direction.
The Hanged Man Card Upright Meaning
In an upright direction, this card signals sacrifice and contemplation. This card helps you in making critical decisions that are ultimately best for you.
The Hanged Man Card Upright Meaning in Love
If you're in a relationship that is not so romantic and joyful at the moment. The Hanged man card in an upright position signifies that you need to step back and give your relationship a rest. In that time, you and your partner could rethink the relationship and make it better. Or, if you find that you're not happy, you can call this relationship off willingly. If you're single, this signals that you should get out of the negative people circle and release all the negative feelings.
The Hanged ManCard Upright Meaning in Career
Are you not sure about your job or next business? This card can be a signal to take some time out to plan your next move.
The Hanged Man Card Upright Meaning in Money
If you're struggling with money, this is card signals towards the opportunity to turn that situation into money. Look around yourself and change your perspective about money, opening your mind to pick the right move.
The Hanged Man Card Reversed Meaning
The Hanged Man in reversed position denotes negative patterns, stagnation. This card might be an indication for you that you're making bad decisions impulsively, and you need to stop and consider the situation.
The Hanged Man Card Reversed meaning in Love.
It's time to make some changes in your love life if you're in a relationship. You need to revamp it without making the unnecessary sacrifice. This will balance your relationship. If you're single, this card indicates that the wait is over. You need to fresh your mind from toxic ex-relationships, and you'll be soon meeting your soulmate.
The Hanged ManCard Reversed Meaning in Career
If things are not going well in your career, this career signals stalling for some time and take the decision on which you've been procrastinating for a long time. Stop sacrificing yourself for a career. Once you do that, you will seek new opportunities.
The Hanged Man Card Reversed Meaning in Money
Do you always find yourself in a situation where you hesitate to take the final step in making any investment? If that's true, this card indicates that you need to figure yourself out well and take the next step. You can take counseling from a financial expert as well.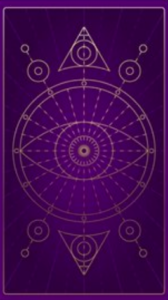 If the moon appears as one of the last cards in your reading, it indicates that your soul's journey is coming to an end. rd, You should isolate yourself from distractions and turn into your inner world for a long journey of discovery. You may have many unanswered questions in mind about love, career or health, and the answers you are looking for are inside you. To find answers, You just need to focus on your inner world and isolate yourself from outside distractions. The moon card may also be telling you not to let your fears interrupt your love & life goals.
Love:
The moon card is a strong indication of new decisions, new paths, or a desire for change. If your partner is not willing to change you could decide separating. If you are not in a relationship but have strong interest in somebody, watch out. Your interest may have a secret agenda.
The reversed moon card can be an indication of the imbalance in your life. It may also be a suggestion for you to seek assistance from a professional or a loved one around you.
Career:
You may be experiencing some difficulties with your coworkers at your workplace, try to communicate with them. Clarifying things may be difficult sometimes but it is essential to find the balance in your career. If you are currently unemployed, do not feel lost. Always try to explore new opportunities. You will eventually find something that fits you.
Health:
This may be an indication of an unhealthy mental state . Speaking to a health professional or a loved one can turn things around.